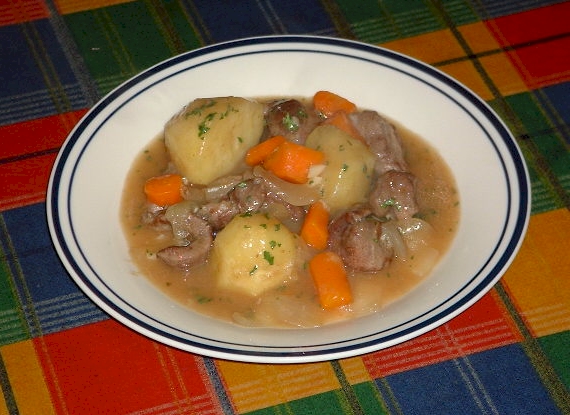 wikimedia.org
Irish food is often described as plain potatoes and mutton, but this is so wrong. Through the wealth of ingredients such as the sea, land, the moors, and pastureland, Irish cuisine is made with history and heritage. One of the most popular foods to cook with and eat in Ireland is the potato. Potatoes became a staple in the Irish diet when it proved to be cheap to grow and helped to feed the poor.
   For the most part, today's Irish food remains traditional. The main method of cooking is in a large pot or on spits over a fire. Meat is prepared by placing it on a hot stone and covering it with a mound of hot stones; the fat running down from the meat helps to heat up the stones. The serving of food was so important in Ireland that food bowls were often buried with people when they died. 
  Ireland is known as the origin for so many foods that we enjoy on occasions, like Saint Patrick's Day, but their most famous food is Irish stew. Irish stew has become one of the most popular foods in Ireland. In the Irish language, the stew is referred to as "ballymaloe" or "stobhach gaelach". There are many different ways to prepare this dish. The meat options are most often beef, lamb, or mutton. Lamb is a sheep that is under one year old and generally lean. The color of the meat can be a pale pink to a pale red. Mutton is a fatter sheep that is older than one year old and has a dark red color. Some recipes even call for dumplings. However, in all stew recipes the stew has a long cooking time. Even though potatoes are such a staple in Ireland, they were not accepted until the mid-1600s. Therefore, potatoes were not an original ingredient in the Irish stew. Instead, the stew was thickened by barley or pieces of bread. Irish stew is all about using what one has and tossing it in. 
  If traveling to Ireland, trying Irish stew is a must! This was the case for Mr. Cope, who traveled to Ireland with his family. He said, "Irish stew is the one thing I wanted to have. So, I did some research on it before we went." The stew is available in many places throughout Ireland. Although Irish stew is made with cheap and available ingredients, Cope describes the flavor as "rich." The stew is known for its easy, cheap, and available ingredients, which means making it at home is simple. 
Ingredients:
2 tablespoons of vegetable oil, divided
1 pound lamb cutlets or mutton, divided
2 pounds of potatoes (peeled), divided 
1 cup roughly chopped carrots, divided 
1 cup roughly chopped onion, divided 
1 cup finely sliced leeks, cleaned and divided 
2 tablespoons all-purpose flour
3 cups dark beef stock
2 or 3 cabbage leaves (optional)
Salt and pepper to taste 
Directions: 
 Preheat the oven to 350F/180C. Gather ingredients. 
In a large frying pan, heat 1 tablespoon of oil. Add half of the lamb pieces and brown on both sides.
Remove lamb pieces and place them in a dutch oven or ovenproof stockpot. 
Cover with half of the potatoes, the carrots, the onion, and the leeks.
Add the remaining oil to the frying pan and heat. Add the remaining lamb, brown all over, and add to the dutch oven.
Cover with the remaining potatoes, carrots, onion, and leeks.
Add the flour to the frying pan and stir to soak up the fat and juices. Cook over low heat for 3 minutes. 
Add the stock one ladle at a time and mix until thick and lump-free. Do not add all of the stock.
Pour this sauce over the lamb and vegetables.
Add the remaining stock to the dutch oven, cover, and cook in the preheated oven for 1 hour.
Add cabbage (optional), cook for another hour, checking it occasionally. 
Season with salt and pepper to taste. Serve hot and enjoy!