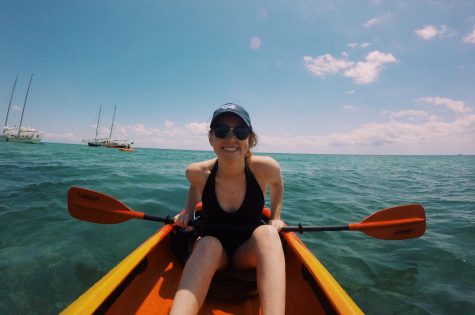 Hi, 
Cat Talk
readers! My name is Olivia Burnette, and I'm a senior here at Millbrook. I love reading, hiking, yoga, playing with my dog KJ, and getting snow cones with my friends. My favorite TV show is
Parks and Rec
, and my favorite book is 
Homegoing
by Yaa Gyasi. I love Millbrook, and I have loved being involved. I am secretary of Senior Class Council, secretary of National Honor Society and Vice President of English Honor Society. I started a fundraiser last year with my friend my Meghan Canard from Sanderson that raised over $6,200 for Make-A-Wish Eastern North Carolina; I hope to raise that same amount of money this year for UNC Children's Hospital. This past summer I got the privilege to serve as a US Senate Page in Washington DC. I got to work on the Senate floor during the Healthcare vote and meet all 100 senators--I even got to meet Joe Biden!! I go to Grace Community Church, and I spend a lot of time there playing in the youth band, volunteering in the daycare and Sunday School and attending youth group. Thank you for taking time to get to know me, and I cannot wait for you to see what 
Cat Talk
has in store this year!
Olivia Burnette, News Editor
May 22, 2018

The death of Hollywood

(Story)

May 22, 2018

Unravel the Pages

(Story)

May 20, 2018

The wedding that is "Meghan" a statement

(Story)

Mar 17, 2018

The incredible madness

(Story)

Mar 15, 2018

Unravel the Pages

(Story)

Mar 15, 2018

Get in the MIDDLE of the political system

(Story)

Feb 27, 2018

Who will take home the gold(en statue)?

(Story)

Jan 10, 2018

Sexual assault: always an American issue

(Story)

Jan 10, 2018

Unravel the Pages

(Story)

Nov 23, 2017

A WONDERful story to both read and watch

(Story)

Nov 01, 2017

Indictment of Trump's Ex-Chairman, Paul Manafort

(Story)

Oct 30, 2017

Celebrating fifty years of Millbrook

(Story)

Oct 24, 2017

Unravel the Pages

(Story)

Sep 25, 2017

Curry speaks out against Trump

(Story)

May 10, 2017

Rare parchment being "declared"

(Story)

Feb 03, 2017
Nov 25, 2016

Ultimate 2016 holiday gift guide

(Story)

Oct 22, 2016

Scandal before Shonda Rhimes

(Story)

Jun 29, 2016

America's guide to the Brexit

(Story)

Jun 01, 2016

A death and its consequences

(Story)

May 23, 2016

#SocialMediaShutdown

(Story)

May 19, 2016

Making the sciences "click"

(Media)

May 13, 2016
Apr 06, 2016

Disney on mental illness, feminism, and police brutality

(Story/Media)

Mar 24, 2016

#BaldCats16 causing a 'buzz'

(Story/Media)

Feb 29, 2016

Pride and preoccupied

(Story)

Feb 19, 2016

The IB Programme is possIBle for you

(Story/Media)

Feb 19, 2016

Justin Lundy: a senior going the extra mile

(Story)

Jan 22, 2016

Making an impact on Raleigh and now Cleveland

(Story/Media)

Dec 03, 2015

Maya Lee: cheerleader, singer and much more

(Story)

Nov 17, 2015

Race to number one: Purpose vs Made in the A.M.

(Story/Media)

Nov 05, 2015

Anne-ticipating Anne of Green Gables

(Story/Media)

Oct 16, 2015

Last minute costumes… from Walmart

(Story/Media)

Oct 16, 2015

Harris Green becomes a teenage politician

(Story)