All of our favorite celebrities gathered together on the pink carpet at the 2023 MTV Music Awards on Tuesday night and all the looks blew us away! Some great, but some not so great. Here is a list (in no particular order,) of the top five best dressed at the 2023 MTV Music Awards.
  First up, the global phenomenon, Peso Pluma. Pluma wore a sleek, all white suit, completed by a pearl chain hanging from his belt loops; a shiny silver watch; and to top it off, a pair of classic black shades. Very simple and classic, yet he still found a way to use his accessories to make it his own!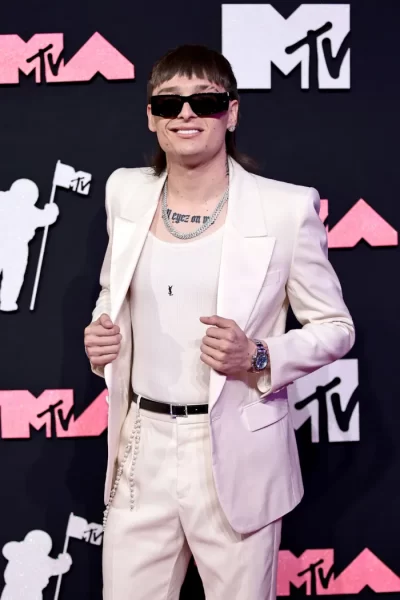 Next on our list is Karol G. The Colombian singer-songwriter rocked the carpet wearing a cream colored dress, made by Ashi Studio, that shimmered like no other. Complete with a transparent silhouette, round neckline, and long matching coat, Karol G definitely made the top five with this look!
  Moving on, Hollywood's current power couple, Chase Stokes and Kelsea Ballerini, took the Pink Carpet by storm! Stokes matched his coat to Ballerini's dress, and the flaming hot red color complemented the pair so well! Ballerini wore a Monôt dress with featured cutouts and a halter neckline. The country star also wore nude high-heeled sandals and chunky gold bangles to complete her look. Stokes stood by Ballerini's side wearing a long red blazer, styled over an unbuttoned black shirt, white pants, and black loafers. Well done to these two!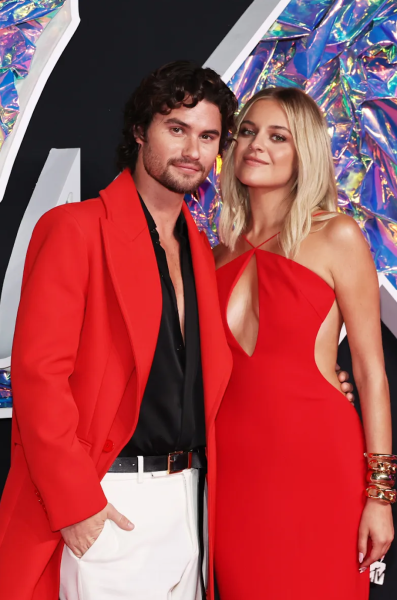 Before her performance on stage, Olivia Rodrigo stunned us all with a beautiful sparkling silver dress. The silhouette complemented her physique so well. The dress included a deep V-neck, low back cut out, and (get this)  150,000 Swarovski Crystals! Rodrigo  took us back to the 2000's with this look, but in a beautiful and modern way.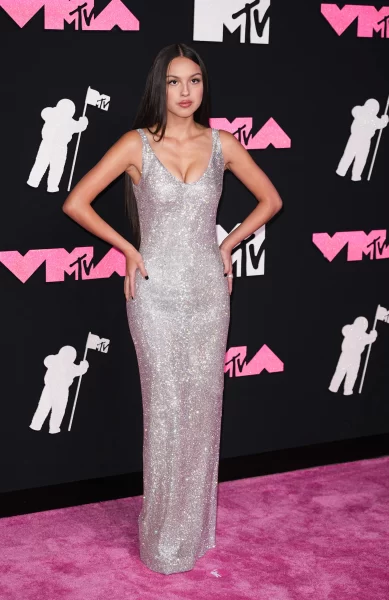 Last, but certainly not least, Taylor Swift. She wore an asymmetrical black dress from Versace that was cinched down the front with buttons to give the dress a tight fit that made her look stunning! Swift completed her outfit with layered gold chains around her neck, black stiletto heels, and a cat eye (sharp enough to kill a man.)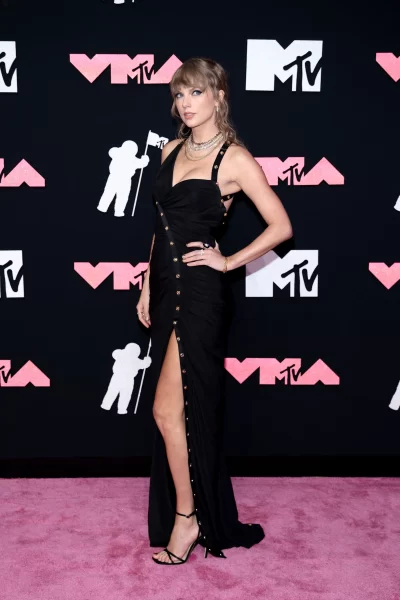 Overall, the 2023 VMA's pink carpet was a great success, and we can't wait to see what these famous celebrities wear next!