Teacher Tribute: Hallie Hoy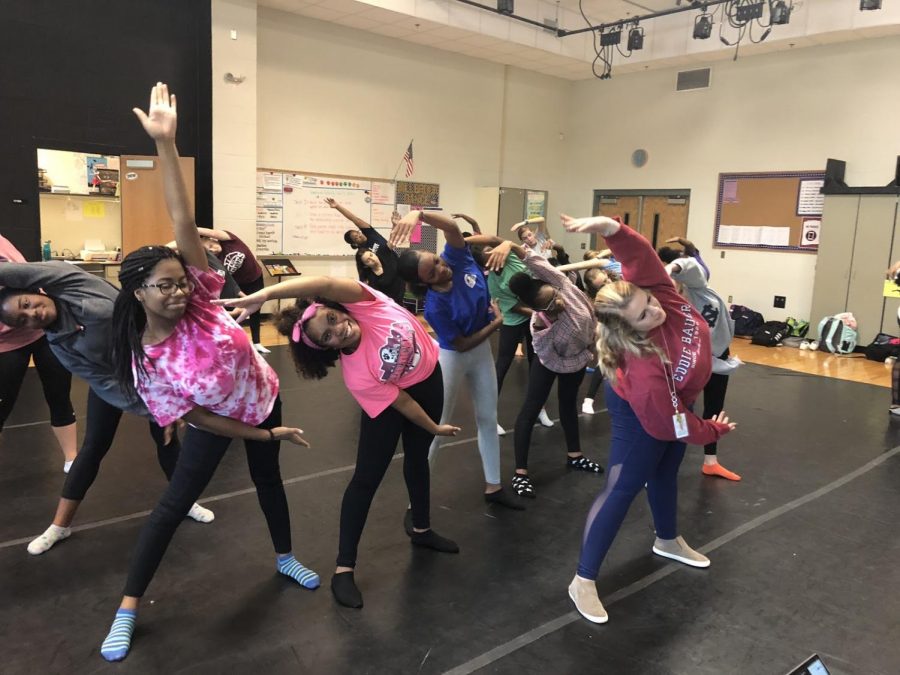 Millbrook's dance instructor, Ms. Hoy, excitedly joined the staff during the 2017-2018 school year and has enjoyed it ever since. Over the past year she has racked up many titles including Dance Team coach, National Honor Society for Dance Arts sponsor, Dance Company director, IB Dance teacher, Musical Choreographer, and is a part of the Millbrook Teacher Solutions Team. Not only does Ms. Hoy genuinely care about each and every one of her students, she has transformed the arts program into something amazing.
 Growing up, Ms. Hoy always wanted to be a dancer. She has spent almost her whole life either dancing or instructing at The Wake Forest Academy of Fine Arts and The Dance Attic. Throughout the years, she loved to perform tap, but now tends to choreograph and improv dances to the style of contemporary. Dancing is now such a huge aspect in her life. Not only does she teach dance all day at school, but after school she goes to teach at her studio, The Dance Attic. At this studio, she teaches all different styles of dance to dancers from ages 4-18. She is also the director of the Competitive Team which travels to compete her own dances all over the East Coast.
 During the day, Ms. Hoy teaches Beginning, Intermediate, Proficient, IB dance, and Company. In addition to teaching, she is the dance team coach. This year, Ms. Hoy implemented a Team A, which dances at football games and Team B, which will perform during basketball season. These take the place of JV and Varsity; this has never been done at Millbrook before Ms. Hoy! She is also the musical choreographer for the plays and musicals. With all of her dance experience, Ms. Hoy has done an amazing job with putting together dances to fit perfectly with the themes, like the 2018 spring musical, Mary Poppins. As if she does not have enough to keep her busy, she also is the sponsor for NHSDA. In this society, she manages meetings, choreographs routines, and sets up fundraisers throughout the school year.
 Ms. Hoy shows every day that she cares for her students. When asked her favorite aspect of Millbrook, she responded,"The students! On my very worst day at Millbrook, it was the students that were able to pick me up! That's not their job, but wow can they make me smile. Without a doubt spending time with my students and watching all of my students grow is my favorite part!" In one year alone she taught basic styles like hip-hop, jazz, contemporary, and tap, as well as different styles like step, dances with a hispanic flair, and dances with political meanings behind them. She also allows for students to express their own styles of dance by assigning choreography projects and simply allowing them to improv.
 The journey to becoming the dance instructor at Millbrook has been exciting for Ms. Hoy over the past year. She described her experience as fantastic. She mentioned that, "Dance teachers often feel like they are isolated from the school culture and kind of on their own. At Millbrook, the experience couldn't be anymore different than that. At Millbrook I feel like dance has become a part of the school culture and it has been an amazing year!" Ms. Hoy has brought many things to the arts program like they have never been before, and for that, she deserves a Teacher Tribute!