One Man Dead After Being Stabbed Outside Convenience Store In Downtown Raleigh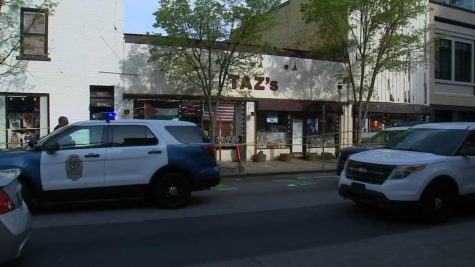 Mark Garrity Jr. died from being stabbed multiple times outside Taz's Supermarket in downtown Raleigh on Thursday around 3:31 p.m. 
  According to an employee at the store and various witnesses, the owner of Taz's, Taiseer Zarka, got into an argument with Mark Garrity Jr. because he thought Garrity Jr. was stealing from the store.
  This accusation lead to a big outbreak and then Zarka stabbed Garrity Jr. multiple times.   After being stabbed multiple times, witnesses say they saw Garrity Jr collapse outside the store. One person performed CPR and said that he had a stab wound on his chest with no pulse.
  Garrity Jr. was taken to WakeMed by an EMS crew. He died two days after he was taken to the hospital. According to his doctors, this was a very violent act.
  Until now, no arrests have been made. Police are continuing to question the store owner Taiseer "Taz" Zarka. 
  WRAL News reached out to Zarka and asked him if he had anything to say regarding the situation. Zarka responded with "I really don't feel like talking about it. This is a case that has gone. Too bad it happened, but it's gone."
  Police have not released details about what the argument was about, and the weapon used. Garrity Jr was unarmed. This investigation is still ongoing.