Hurricanes begin their Quest for the Cup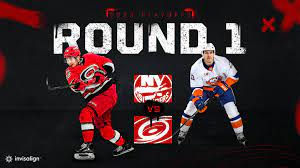 With Thursday's win over the Florida Panthers, the Carolina Hurricanes clinched the ever-important Metropolitan division title for the 3rd straight year, edging out the young and surging New Jersey Devils by one point in the standings. Clinching the division gives the Hurricanes home-ice advantage over every team in the Eastern Conference except the record-breaking Boston Bruins.
   Though the Hurricanes have a strong record, they have hit a rough patch recently which has left many fans and analysts worried about the hopes of the Stanley Cup run. The Hurricanes were among midseason favorites to win the cup but those odds were stifled with brutal losses to forwards Max Pacioretty and Andrei Svechnikov. They are set to play the New York Islanders on Monday, April 17. 
  The Hurricanes' struggles over the last few weeks have raised lots of questions regarding line changes and goaltending. Head Coach Rod Brind'amour has been tasked with answering these questions. The Canes kept their forward lines consistent throughout the year until recently when the team was struggling to put pucks in the net. This issue was also not addressed at the trade deadline, where there were multiple big-name goal scorers available that could've provided the spark the Canes needed.
   Many fans weren't pleased by the complacency of General Manager Don Waddell's decision-making at the deadline. Waddell made two trades at the deadline (that immediately impacted the Canes this year) that included Defensemen Shayne Gostisbehere, who has been a solid addition to the 3rd defensive pair but was not brought in to fix the need for scoring goals. Also added was forward Jesse Puljujarvi from Edmonton. The big body forward has done well on enforcing and adding a physical style of play, but has been non-existent in scoring points (Goals and Assists) mustering up a lousy 0 goals and 2 assists in 17 games played in Carolina. This makes Carolina rely heavily on superstar center Sebastian Aho, who led the team in goals with 36, and rising star Martin Necas, who had a career year with 71 points. The Canes have been saved on multiple occasions by their high-scoring defensive units headlined by Brent Burns (18 Goals) and Brady Skjei (18 Goals) though that is not sustainable for a deep playoff run. 
  Brind'amour is also faced with finding out who will be the starting goalie for the playoffs. Most teams have already predetermined their goalie for at least the first round of games, but the Hurricanes are in an interesting predicament having two starting quality goaltenders in Frederik Andersen and Antti Raanta. Frederik Andersen was brought in to be the premier goalie in Carolina coming in as a marquee free agent in 2021 but has struggled as of late to live up to the high expectations he was brought in for with a record of 21-11-1 and a save % of 0.903. Antti Raanta on the other hand has been a steady netminder over the season and has found ways to win nearly every time with an outstanding record of 19-3-3. 
  With both goalies having the ability to be a playoff starter will Brind'amour choose one and stick with him or continue to do what he has done all season and alternate? I asked junior Turner Challgren, a die-hard Hurricanes fan for over a decade this same question. "Raanta has been more consistent as of late and Andersen has turned into Swiss cheese letting in a lot of softies that Raanta wouldn't," Challgren said. 
  Consistency seemed to be the main issue regarding who gets shot in goal. Junior Jake Somerville responded by saying, "When Raanta is in the net he gives a better chance to win. Plain and simple."