Opinion: Raleigh's Top Concert Venues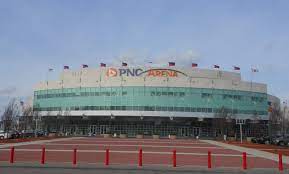 The Raleigh area is a thriving live music hub, hosting a variety of bands and artists big and small. Spanning across any genre, fan bases of virtually any sound will be able to find musicians and shows that appeal to them. Aside from artists, another big factor in live music is the venue itself. A venue can ultimately make or break the live music experience, either enhancing the magic of the music or frustrating the fans. This list attempts to review the most popular venues in Raleigh from worst to best and evaluate their highlights and undesirable factors. This can vary from fan to fan, but hopefully, this will provide some insight into your next concert decision. 
PNC Arena is undoubtedly the biggest and most popular venue, holding upwards of 14,000 people. PNC hosts sporting events, concerts, and other popular events all year round. For sporting events like NC State basketball and the Carolina Hurricanes in hockey, PNC is great due to its capacity and ability to project to fans in any seat. Live music is a different story. PNC prices make some fans' dreams of seeing their favorite artists virtually impossible to make true. Ticket prices are through the roof, and recently, for big artists like Stevie Nicks, Harry Styles, and Greta Van Fleet, even the cheapest tickets can be upwards of $100  plus fees, parking, and high concessions. The highest seats hinder you from seeing the artists, making the fan have to watch the screens that the artist is projected on. If you want the front row, you might have to pay almost $1000. For the casual fan, PNC is okay, but for the die-hard fan, you are required to jump through hoops to even get close to the stage. 
A stark contrast to PNC, Lincoln Theater is an intimate venue in the heart of downtown Raleigh. With a maximum capacity of 750 standing, Lincoln Theater hosts tons of upcoming bands and artists with devoted followers but also poses as a place to discover new acts. The best part of Lincoln Theatre is the pricing, with tickets ranging from $15 to $50. Some setbacks include the parking, which can be hard to find on the weekend in downtown Raleigh. Since the room is so small, the venue can feel packed and claustrophobic super easily, and you might have trouble finding any popular acts. There are a lot of tribute bands that play there, so if that's your thing, Lincoln might be the place for you. While I've never been to Lincoln myself, there are generally positive reviews, so this venue is not for everyone, but if the description is appealing, you should check it out. 
Durham Center of Performing Arts 
The Durham Center of Performing Arts is a hub for a plethora of different performances. The DPAC is a true theatre, with a floor or seats and multiple tiers as you go up. You can find orchestra performances, popular bands, magicians, and even comedians coming to this space. The best part about the DPAC is its versatility for artists and performers big and small, appealing to a vast range of interests and different people. Another perk of the DPAC is its member packages and season tickets that you can purchase, which provide early access to tickets and free concessions at different shows. Their parking is pretty close by, and their staff is always friendly. You probably won't find a high-intensity concert at the DPAC, but there is usually something for everyone. 
 Coastal Credit Union Music Park
Coastal Credit Union Music Park is a staple for any summer concertgoer. CCUMP provides a large venue with a cozy feel, holding a capacity of up to 20,000 people. The amphitheater consists of a large lawn area holding 13,000 fans with a covered seated section near the front of the venue. This is a perfect venue for warm weather and watching the sunset behind the view of your favorite artists performing. The setbacks of this venue are the parking, which can be far from the venue at times, coming with a hefty cost. Additionally, if you are on the lawn, you might have to sit on grass after rain, making it muddy to walk around or sit in, and you are not covered if it rains during the show. Concessions are also usually pretty expensive, but there are multiple areas across the venue to purchase merchandise, food, and drinks. CCUMP even offers a package for the summer for a flat rate of $200 to attend unlimited concerts during the summer. Although there are a few cons, Coastal Credit Union Music Park is an amazing venue hosting some of the biggest artists. 
Although it can be found outside of Raleigh's bounds, Motorco Music Hall is a venue in Durham that describes its niche to host "Indie bands, stand-up comedy & other events staged in an edgy space with a street-food eatery & bar." The capacity is small, but mighty, having a maximum capacity of 500 people. The room is mostly standing but offers some seating, and great food service. While they do not have a parking lot, options include street parking or nearby parking decks. Motorco is a great place to find a new band or to see a small artist that you've been following. 
Red Hat Amphitheater can be found in the heart of downtown Raleigh. This differentiates itself from Coastal Credit Union by having a smaller capacity, with proportionally more seating, a small standing area in the front, and a small lawn in the back of the venue. The venue only offers drinks, however, there are often food trucks that come to concerts providing different types of food and cold desserts which can be especially helpful on hot summer days. I have found that Red Hat is beloved by concertgoers for providing exemplary service and amazing musical acts. Parking is very close by but will cost by the hour in the local parking decks. The venue is easy to navigate, and no matter where you sit, you are never terribly far from the artist. Red Hat also does an amazing job of offering a wide selection of performances, from Trippie Redd to Goo Goo Dolls, and even Big Time Rush. Red Hat is always a great place to go for any concert. 
In the middle of the cute town of Carrboro, Cats Cradle is an iconic venue that over the years has hosted some of the most influential artists over the years, such as Sonic Youth, John Mayer, Iggy Pop, Joan Baez, and (drum roll, please) Nirvana. The venue still holds its own, hosting some of the biggest indie artists in the game right now, with some recent acts including Indigo De Souza, Beabadoobe, and Declan McKenna. Cats Cradle is surrounded by great spots to eat with plenty of close-by parking. The capacity holds 750 people giving it an intimate feel as a standing room. There is a small amount of seating and a bar in the back. Tickets are always affordable and easy to purchase with minimal fees. Cats Cradle continues to uphold its reputation as an iconic venue with a thriving community. 
The Ritz is a booming venue that has only gained more popularity over the years. Similarly to Cats Cradle, The Ritz is a standing room but offers seating on an upper balcony. The venue hosts artists appealing to virtually any genre but often features rap, pop, and rising indie artists. They provide parking for $14, which isn't too bad considering their ticket prices. You can find tickets for as low as $20, however, prices tend to surge for larger artists, trending upwards for $150. While they don't offer food, there are plenty of restaurants nearby to indulge in while you wait in line. Since the venue is relatively small, you always feel like you are close to the artist and easily feel a part of a community within the crowd. The primary setback of the Ritz is that you're not likely to get close to the front unless you wait for a few hours before. There is a little area of covered patio, but if there is rain in the forecast, I recommend that you bring a poncho while you wait. The vibe is immaculate at the Ritz once you're in and I've had an amazing time at every concert I've been at.