Hurricanes Lose Game 1 in Quadruple Overtime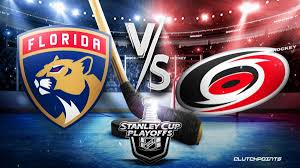 The Carolina Hurricanes faced the Florida Panthers in game 1 of the Eastern Conference Final late Thursday night (and early Friday morning). The Hurricanes got the scoring started with a powerplay goal by forward Seth Jarvis in the final seconds of the 1st period. The Panthers clawed their way back into the game with 2 unanswered goals in the 2nd period scored by Aleksander Barkov, 2 minutes 15 seconds later, Carter Verhaeghe broke the 1-1 tie. The game headed to the 3rd period 2-1.
The Canes forecheck was strong coming out of the 2nd intermission and wound up drawing a penalty. On the power play, the Hurricanes slipped through the Panthers' defense with Seth Jarvis saucering the puck to Stefan Noesen for the equalizer. The goal brought momentum and 20,000+ fans at the sold-out PNC arena back into the game. The Canes started a barrage on Panther goalie Sergei Bobrovsky but he didn't budge. Both teams left the third period with multiple Grade A chances, after 60 minutes game 1 was headed to overtime (OT).
Within the first three minutes of OT, the Panthers scored what looked like the OT winner, thousand of angry Canes fans left the arena but after an official review, they determined that Colin White went into the crease and because Andersen had been interfered with by Colin White and Ryan Lomburg, the game-winner was called back. After this, many fans filed back into their seats as the game continued.
The rest of the game was controlled by the netminders. Panthers Goalie, Sergei Bobrovsky, stopped a whopping 63/65 shots faced, including a miraculous sliding save on Canes Captain Jordan Staal. Freddie Andersen was masterful as well with 57 saves on 60 shots, including multiple late-game glove saves to keep the Canes in it. Despite the terrific goalie showdown, someone had to lose. In the waning seconds of the 4th OT, Panthers Star Forward, Matthew Tkachuk, zipped a shot through Freddie Andersen and after seven periods, the Panthers walked off winners of the Game 1 slugfest.