4-Star Basketball Recruit Mikey Williams Arrested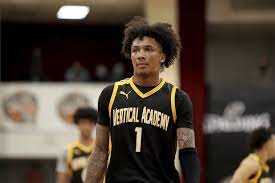 Mikey Williams, basketball prospect, with a lot of media attention and exposure,  pleaded not guilty to multiple counts of charges related to a shooting that occurred at his home in San Diego,  midnight March 27, authorities said. Williams would make his appearance on a zoom call because of security concerns that were cited by his attorney, Troy P. Owens.   
  Williams spoke only answering, "Yes sir," when asked by Superior Court Judge Louis R. Hanoian, and was told that he could no longer possess guns or ammunition due to him remaining free on a $50,000 bond. Williams, committed to Memphis University next season alongside head coach Penny Hardaway. He could get up to 28 years in prison if convicted on all counts.  "Five people got into a car and as they were driving away, shots were fired," according to the San Diego County Sheriff's Department incident report. "The car was hit, but no one was hurt." Owens stated that the incident began after an altercation occurred  at Williams' home near San Diego. Williams was  represented by Owens at a  hearing that occurred on June 15 but he was ordered to be personally present for the preliminary hearing that was scheduled for June 29. "The facts are still under investigation," Owens told ESPN. "I look forward to the opportunity to provide a statement about what actually happened on the night of the incident. Unfortunately, at this time I cannot compromise an ongoing investigation and will have to wait." Williams, who is ranked 34th in ESPN's 2023 recruiting class, had millions of followers on TikTok and Instagram. After this event occurred, he proceeded to delete his social media accounts. Last week, Memphis University released a statement that said the school was "gathering more information." Head Coach Penny Hardaway told The Commercial Appeal earlier this week that he "did not have enough information" to make a statement on the case of Williams.