A Look Back at the Hurricanes' 2023 Season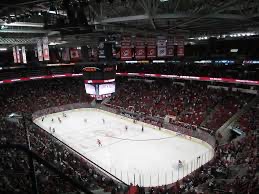 The Carolina Hurricanes had a wonderful season ending with a record of 52-30. They were ranked no. 1in the East going into the playoffs. This allowed them to have home ice advantage over their opponents they would face in the playoffs. 
  The Hurricanes started their season in October, battling each game since it could determine their future later in the season. Senior Aiden Hoey who has season tickets said, "The games were so fun to go to and the players always gave it their all no matter what." Hurricanes games are enjoyable for everyone and a great outing in Raleigh. 
  The Hurricanes in this long and grueling season faced challenges.  Star player Andrei Svechnikove  was injured during the game against the Golden Knights March 11. He finished the game and didn't announce his injury until the next day. Many teams face injuries during a season, but this was hard on the Hurricanes since he was the glue of the team. 
  Entering into the NHL playoffs the Hurricanes had high hopes, being that they were the one seed in the Eastern Conference. They were able to win the 1st round against the New York Islanders, then beat the New Jersey Devils in the 2nd round. But in the Eastern Conference Finals they lost to the Florida Panthers. An amazing season overall for the Hurricanes and hopefully they are back next year! Let's Go Canes!