Netflix Presents: "Queen Charlotte: A Bridgerton Story"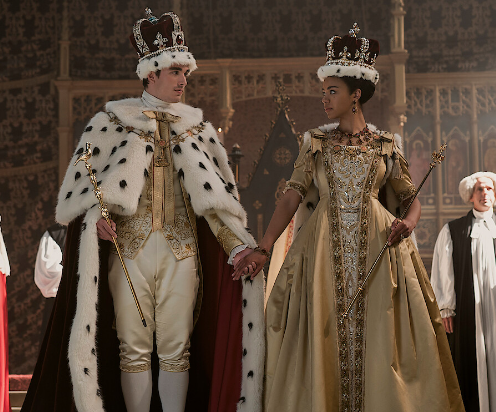 The Netflix series, "Bridgerton" has been a very popular series for a couple years since its premiere in 2020. It's a period drama series, based on the book series of the same name which follows the romantic and daily lives of the Bridgerton family. The show starts with Lady Bridgerton and her eldest daughter, Daphne Bridgerton, as she makes her debut to society in London by picking a man to marry. 
  Queen Charlotte, an important supporting character in the show, declares Daphne "the diamond of the season" meaning she is the most desirable match. The Queen is a key character in making matches for all the young ladies in London. A new "Bridgerton" spin off show, "Queen Charlotte: A Bridgerton Story," has been created to learn more about the fabulous Queen Charlotte and how she came to be in the Bridgerton show. 
  Queen Charlotte has been in the top 10 of things to watch on Netflix, and took the number one spot for the first few weeks after it was released. Caroline Camden, a Bridgerton fan says, "The show is both romantic and heartbreaking." The show tells the backstory how Queen Charlotte's character became the Queen of England with King George III by her side. Or so they thought?  
  Unlike the series "Bridgeton," King George makes a huge appearance in the show Queen Charlotte and the viewers get to know more about him. "I think George had a very hard life and in the show I got to learn more about him and his relationship with Charlotte," says junior Lila Jones. King George suffers from a mental disorder called porphyria. In the show, the viewers see more of his struggles and how that affects the relationship between him and Charlotte. 
  In the show, the characterization of Queen Charlotte is deeply shown. Viewers get to know more about how Queen Charlotte became who she is in "Bridgerton." Throughout "Bridgerton," the Queen's personal attendant, Brimsley always pops up. In the new Bridgerton story, the relationship between Brimsley and Charlotte is a strong bond of trust and it's interesting to see how it continues on in the Bridgerton series. "Queen Charlotte: A Bridgerton Story" is a new exciting show that you can watch on Netflix!