On September 9 and 10 Raleigh's "Taste of Lebanon" food and cultural festival was hosted for the fifth time at Saint Sharbel Maronite Catholic Church. The festival offered visitors a variety of traditional Lebanese food, dance, and other entertainment to enjoy over the weekend.
  Lebanon is a country with a wealth of delicious foods to offer, such as kafta, a lamb, beef, or chicken meatball filled with onion; rice pilaf, a dish with rice and vermicelli noodles mixed; manakish, a flat bread covered with olive oil, sesame seeds, sumac, and olive oil; and tabbouleh, a refreshing salad with parsley, mint, tomatoes, and other ingredients.
  One of the most popular dishes offered at the festival was chicken shawarma, which was served in two forms: a roll and a rice platter. Chicken shawarma is a staple dish in Lebanon as well as several other Middle Eastern countries. Shawarma is a traditional way of cooking that involves stacking meat in an inverted cone shape on a vertical spit. The spit then turns while being heated from the sides in order to ensure the meat is cooking evenly. Once the outer layer of the meat is done it is shaved off the sides with a sharp knife and served hot to the customer. While this may seem an unconventional way to cook meat, the end result is delicious! 
  Shawarma — which is traditionally either chicken, beef, or lamb — is both a popular street food as well as being a mainstay in many Lebanese restaurants. While it's hard to say which way of serving is more popular, it's very common for it to be served in its sandwich form as a fast and easy street food. When served as a rice platter, however, it's often paired with a garlic sauce, hummus, rice, and a variety of other garnishes.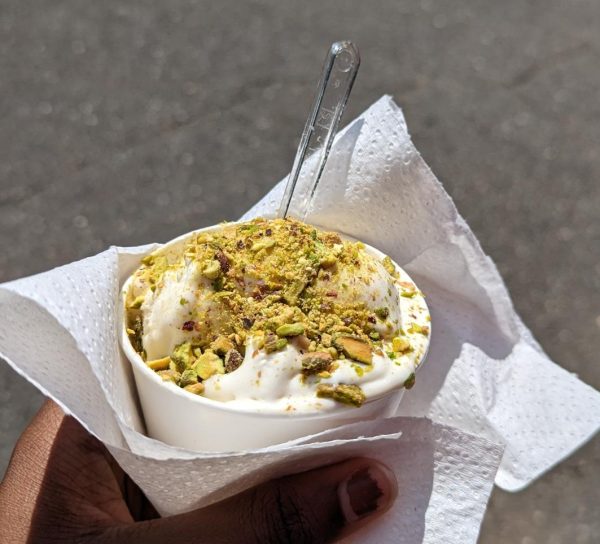 Another Lebanese dish on showcase at the festival was booza (also spelled as bouza). Booza is Lebanese ice cream made of milk, sahlab, mastic and sugar; often topped with crushed pistachios. While it's similar to American ice cream in some ways, a key difference is its elasticity and slightly lemony taste. Another thing that makes it different from American ice cream is the way that it's made. Unlike the ice cream you might be used to, which is made through a constant churning motion, booza is made through pounding and stretching in a freezer drum.
  While both dishes are certainly not something you might be used to, both are delicious and a good option to try in the near future. If you're interested in trying Lebanese food for yourself, a couple of places nearby you might want to consider are Sitti, Jazmin and Olivz Mediterranean Grille, or Albaraka Market and Grill.