Critic's Corner: Living Kitchen
This is just the "vegan"-ing
Despite the mockery of vegans on social media, businesses are beginning to respond to the increasing consumer demand for vegan establishments. In the past year or so, veganism has expanded its community from a small group of activists to a niche market for health-nuts and dieters. As a result, the ability to go vegan is easier and cheaper than ever, putting new products on supermarket shelves and non-animal-based options on restaurant menus.
In the heart of downtown Raleigh and the vegan movement lies Living Kitchen: a restaurant best defined by their devotion to fresh, organic cuisine. The full service restaurant stands out among traditional, southern establishments that scatter the streets of downtown Raleigh. The exterior of Living Kitchen consists of contemporary glass panels, complementing the modern ambience of the interior. Living Kitchen customers can choose between art-deco-esque counter seating or roomy table seating, for larger crowds. The message of raw, health-conscious eating directly translates into the plant decor and art.
Living Kitchen strives to make a healthful, vegan lifestyle easily obtainable, but more importantly, delicious. Consumers can forget everything they know about vegan meals, including the overabundance of faux, soy-based meat and dairy products. Living Kitchen's approach is an honest, unprocessed, and unexpected one. Opposed to using faux cheese, Living Kitchen's manicotti and lasagna are comprised of creamy "cheese" made from cashews. Similarly, their veggie burger has a quinoa-millet base. These ingredients directly align with their values, which is a seldom find in the restaurant business.
Living Kitchen is also in on the juicing trend, serving a full line of cold-pressed, organic juices. The $100 million market of juicing is claimed to prompt weight loss, clear skin, and cleanse the body of toxins. Frequent juice-cleanser and customer of Living Kitchen, Julia Vandermel, said, "I love going to Living Kitchen because they have great juice cleanse options. I also like that everything is raw and plant based."
Living Kitchen is located across the street from the Raleigh Convention Center on 555 Fayetteville Street and is open everyday from 8am to 9pm, excluding Sundays.
About the Writer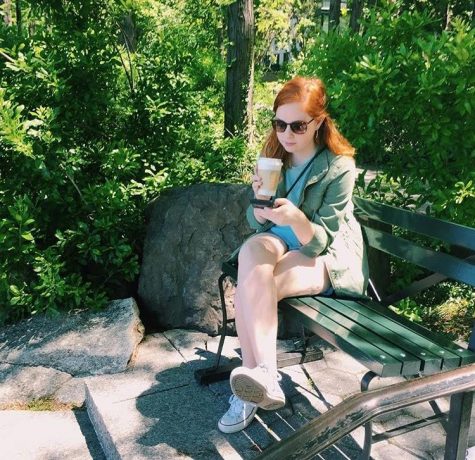 Emily Ficker, Section Editor
Cat Talk reader:

thank you for checking out my profile. To tell you a little bit about myself, I am a second-year Newspaper student as well as the...