Critic's Corner: Relish
Creedmoor Road's Relish Cafe & Bar is all about local: local ingredients, local products, and a local atmosphere. The cafe aims to serve southern comfort food and celebrate a love for food, drink, cooking, and entertaining–without the cholesterol or upscale price.
Owner Sharon May swears by her mastered "tried and true" recipes, and it directly translates into Relish's menu. The establishment's menu is a recurring motif of the homey, rich, and hearty comfort food you love, without the ensuing guilt. It is important to Relish to recognize and meet the needs of different customers' dietary preferences, so Relish makes it a goal to serve nostalgic indulgences from the closest possible farms and markets, coaxing the most flavor out of healthier options. Sophomore Maddie Lowell loves Relish Cafe because it is friendly toward her vegetarian diet: "I love the strawberry fields salad. It has strawberries, mandarin oranges, and pecans, and I add avocado and goat cheese – it's amazing. I get it almost every night, it's kind of an addiction at this point." Relish calls their approach "new Southern" style; a style that aims to retain the heart of those beloved southern classics while catering to the wants and needs of diverse classes of eaters.
You may want take several trips to Relish to get a comprehensive understanding of everything they have to offer because their diverse all-day menu offers breakfast, lunch, and dinner. While you may think you know everything there is to know about Southern, you may be intrigued by their "test kitchen," which offers obscure yet mouthwatering combos, such as boiled peanut hummus, six different grilled cheese combos, and an extensive list of homemade relishes. If you are looking to satisfy your sweet tooth, I suggest indulging in Relish's chocolate chess pie. Their signature buttery, flaky crust and rich chocolate filling takes the blue ribbon–or better yet, the cake–for dessert.
Customers can also stop in Relish's local version of a Cracker Barrell shop, which sells handmade local jewelry, pottery, home goods, and homemade jams and sauces. The shop highlights Relish's love for local goods and their greater community.
Relish is open from 11 a.m.-10 p.m. weekdays, 9 a.m.-11 p.m. on Saturday, and 9 a.m.-9 p.m. on Sunday. For menu information, contact information and more, visit www.relishraleigh.com.
About the Writer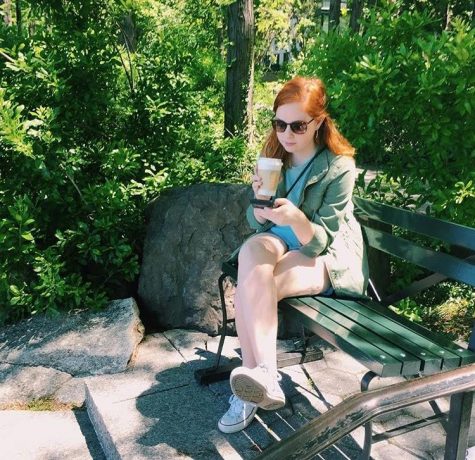 Emily Ficker, Section Editor
Cat Talk reader:

thank you for checking out my profile. To tell you a little bit about myself, I am a second-year Newspaper student as well as the...