This Day in Sports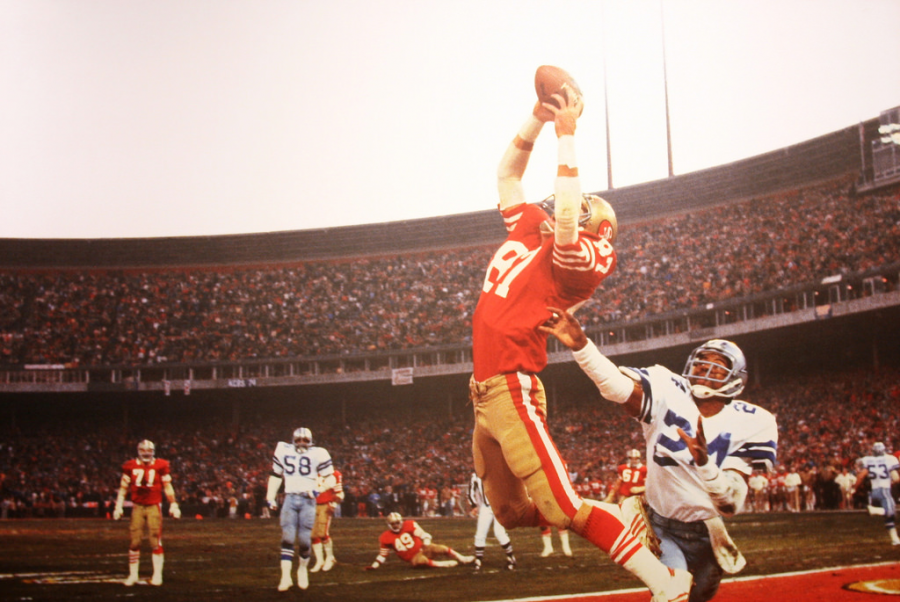 1982: "The Catch"
 Known as one of the greatest  plays in NFL history, on this day the San Francisco 49ers went to the Super Bowl on a last second play from NFL Hall of Fame quarterback Joe Montana and receiver Dwight Clark.
 There were 58 seconds left in Super Bowl XV;  the 49ers were on the Cowboy's six yard line. Joe Montana got the hike and then rolled to the right. When three defensive players began chasing him down, he pump faked, then threw the ball up. In the back of the endzone, Montana's receiver Dwight Clark jumped up, and with his fingertips, he came down with the ball for a 49er touchdown. This was the winning play of the game, as it put the team up 28-27.  
  The play lives on and is an iconic moment in NFL history for the pure talent in the play, as well as the significance of it. That play was not just iconic, but it took down one dynasty and started the rise of another. The Cowboys, "America's Team," was a dynasty in the league, winning and going to the league or conference championship games almost every year. After this play and the 49ers' win, a new dynasty was in the making. In the 80's alone, the team won four Super Bowls. They were not a team to be messed with and perennial members of the playoffs, and most if not all of this success can be linked straight back to "The Catch" as the start.
2011: FIFA's best player in the World
 Now one of the most prestigious awards in the soccer world, on this date seven years ago FIFA announced its first annual FIFA Ballon d'Or winner, which is an award that goes to the best player in the soccer world from the previous year. The inaugural winner was world superstar Lionel Messi.
  This award is very rare, as it only lasted for six years. It combined both the FIFA Player of the Year award and the Ballon d'Or award. In these brief six years the award was won by Lionel Messi four times and Ronaldo two times. Along with this award Messi has also won the UEFA Men's Player of the Year award, Golden Boy, the Golden Boot and many others. The two separate awards that were combined are both very significant awards, so when they were combined receiving each was made even more special. Junior Will Faison added that "This award really was unique since it was only around for 6 years. Also since the two who won it were such world class players, it shows the type of award it truly is."
 Since the awards have gone back to being separate, the two stars have continued winning them, but they are the only people to ever be able to say they won the FIFA Ballon d'Or award.