That's What She Said: Standardized Testing
Standardized testing is helpful!
Hang on for a minute...we're trying to find some more stories you might like.
 Standardized tests are assessments used to measure a student's academic capability. The scores are analyzed to determine students averages, so each student will be treated appropriately in order to reach their full potential. Standardized tests are crucial in terms of classifying students who struggle with the content and providing touchstones for mediocre achievements. Without testing, teacher instruction would be inequitable towards students with contrasting performance rates. If a student can not process information as quickly as their peers, then it is unfair that they are stuck in a class where the teacher moves at a faster pace. Three logical reasons why standardized testing is helping education is because it allows students to be placed in classes appropriate to their ability, they hold students and teachers accountable, and the scores give both the students and parents a good idea of how their child is doing in school.   
 Placing a student in a class that does not mirror their academic ability causes them to not get the education that they need because of the skill level being too difficult or too easy or the pace being too rapid or too slow. The results that come back from the tests allow benchmarks to be made in order to determine if a student is ready or not for tougher skills. Freshman Haley Yopp said, "Standardized tests can help identify the areas that students are struggling in. The feedback from these tests can let the student know what they need to work on." Students taking standardized tests benefits their teachers, families and even themselves. Students like standardized testing to the extent of being able to share scores with one another from all different schools instead of just 30 other people in their class.
 Teachers are required, throughout the year to teach and help students in all parts of the curriculum so that students are influenced positively and understand the given material. Students are responsible for studying, doing their homework and classwork and listening and participating in class. As the final exams and EOCs creep around the corner, classes begin to review for the upcoming exams. Throughout the year, teachers and students realize that there are NCFEs or EOCs that will come along. The threat of the standardized tests are always a looming thought, so in order for both parties to look solid in the end with high scores, every teacher and student is held accountable so all of the curriculum is taught and understood. Being held accountable for your work influences how well you understand topics and how well you take pride in your work so that you will be successful in the end.
 Lastly, standardized tests allow parents to analyze their child's progress throughout the year. In order for students to perform well, they need help from every influential figure they can, whether it be a teacher or their family. Without parents being aware of how their child is doing in school, does not help the student work diligently towards their school career.
 Imagine the feeling that you get when you get test results back and you got an average or above average score. You had spent days and nights studying and going over the material, even though it was very stressful, but you got a good grade. How do you feel? Do you feel relieved? Proud? Do you feel as though a weight has been lifted off of your shoulders? Standardized tests may be stressful at times, but the after effects help each student, including YOU, become smarter every day.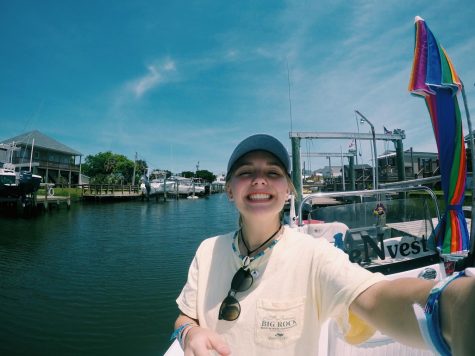 Taylor Jones, Entertainment Editor
Hey y'all! My name is Taylor, and I am junior. This is my second year on the Cat Talk staff. I am the Student Body Secretary at Millbrook this year, and...