Marching for a gun-free America
Hang on for a minute...we're trying to find some more stories you might like.
   Protesters flooded streets across the the world on Saturday, demanding action against gun violence. The demonstration was fittingly named "March for our Lives," and the main event took place at noon in Washington, DC in front of the United States Capitol building. 845 sister marches took place around the globe, including one here in Raleigh.
  March for Our Lives was created and organized by #NeverAgain, a student-led group consisting of teenagers who survived the February 14 shooting at Marjory Stoneman Douglas High School in Parkland, Florida. The gun control organization that advocates for tighter regulations to prevent gun violence, Everytown for Gun Safety, is helping the students put together the event.
  After the eighth mass school shooting this year, which left 17 dead at Marjory Stoneman Douglas High School, many are calling on lawmakers to address the issue of gun violence in America by implementing stricter gun control legislation.
  There were three primary demands made by March for Our Lives. First, they demanded a law to be passed to ban the assault weapons frequently used to carry out mass shootings; this includes the AR-15. The second demand was to stop the sale of high-capacity magazines which would make mass shootings much more difficult, nearly impossible. Lastly, the demanded the elimination of all loopholes in America's background checks and implement laws that require background checks on every gun purchase, including those that occur online or at gun shows.
  Numerous celebrities were in attendance of March for our Lives in Washington and in other states. There were many celebrity performances from stars, including Demi Lovato, Ariana  Grande, Miley Cyrus, Jennifer Hudson, Common, Andra Day, Lin-Manuel Miranda, Ben Platt, and Vic Mensa. There were also many speakers from Marjory Stoneman Douglas High at the event, as well as others who have lost loved ones to gun violence. Amongst these speakers there was an especially surprising appearance by Yolanda Renee King, Martin Luther King, Jr.'s granddaughter. Nine-year-old Yolanda brought chill bumps to many listeners when she reminded them of her grandfather's dream that his four little children would not be judged by the color of their skin, but by the content of their character. She then shared her own dream – that enough is enough, and the world could become gun-free.
  Sophomore Kelsey Woods said, "I went to the March for our Lives because I am tired of seeing gun violence in our country, and I want to push our lawmakers to end it with common sense gun laws. I was empowered by the speeches of other students and survivors of gun violence at the march."
  Many students wore an orange price tag around their neck that read $1.05. Marjory Stoneman Douglas student Sarah Chadwick explained the reason for this in her speech: when you divide $3,303,355 — the amount of money Marco Rubio has received from the National Rifle Association by 3,140,167 — the number of students enrolled in Florida schools — the dividend is one dollar and five cents. She questions if that is all students are worth in the eyes of politicians. She shocked many when she fearlessly asked if $17.85 (14 students at $1.05 each) was all it cost Marco Rubio on the day of the Parkland shooting. She ended stating her belief that one life is worth more than all the guns in America.
  Many times throughout the event participants shouted "Vote them out!" and did chants, such as "No more silence, end gun violence!" The event was truly inspirational, to see so many different people with diverse backgrounds coming together to fight for what is right. Our millennial generation will change the world.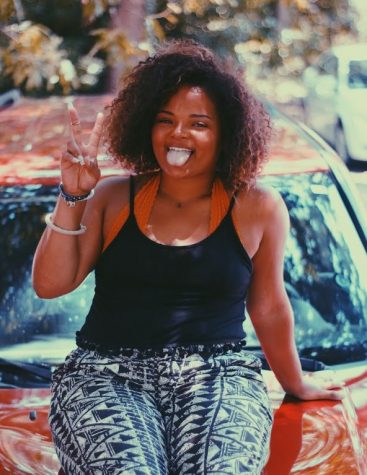 Mikayla Davis, Co Editor-in-Chief
Hey, readers. Welcome to the Cat Talk! My name is Mikayla Davis, and I was born and raised in Raleigh. I am eighteen years old and currently an IB senior...