It is officially Triple Crown Season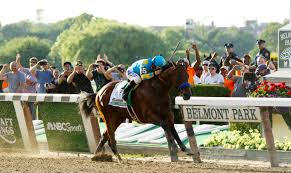 Hang on for a minute...we're trying to find some more stories you might like.
Beginning on May 5 with the Kentucky Derby, the hunt for the Triple Crown started. The Triple Crown is one of the rarest feats to be accomplished in American sports history, and this is where one horse wins all three races: The Kentucky Derby, The Preakness, and The Belmont Stakes.
 The Kentucky Derby took place on May 5, and the Preakness took place on May 19. The Belmont is coming up on June 9. The last time that one horse accomplished this was in 2015 when American Pharoah and jockey Victor Espinoza won the races. However, before that, the last time it happened was in 1978. Sophomore Harper Jewell Morgan added, "I remember when American Pharoah won the Triple Crown! I thought it was amazing that they were able to pull it off, especially since it hadn't been done in so long!" The first running of the races took place all the way back in 1809, and since then only 12 horses have ever won the Triple Crown!
 The races are run buy two and  three-year-old thoroughbred horses and are considered to be the most prestigious horse races in the world. They take place on tracks that range from one to one and one fourth miles long. They last about two minutes, but finishing these races in less than two  minutes rarely occurs. The Kentucky Derby has only ever been ran under the two minute mark once, back in 1973 when Triple Crown winner Secretariat did so. The races are also among the highest sporting events ever betted on. This year's Kentucky Derby has a winnings of $2 million, with over 1.4 million dollars of it going to the winner. This year's favorite to not just win the Kentucky Derby, but the Triple Crown is Magnum Moon, an American horse owned by the Lows.
 The real reason that accomplishing the Triple Crown is so hard is due to the fact that some horses only race in one of the three races, while others race in all three. Therefore, the horses who end up racing in all three are worn out and tired buy the last race, showing how truly dominant the horses who win are. This is evident, as there have been 52 horses to win two legs, but the 40 of those 52 were unable to win the third one.
 However, all of these facts just add to the suspense and greatness of the sport and show why it is so widely watched. If it were not for the degree of unpredictability, the interest, the betting, and the thrill for the event in general, it would just not be as valuable.