Gossip Girl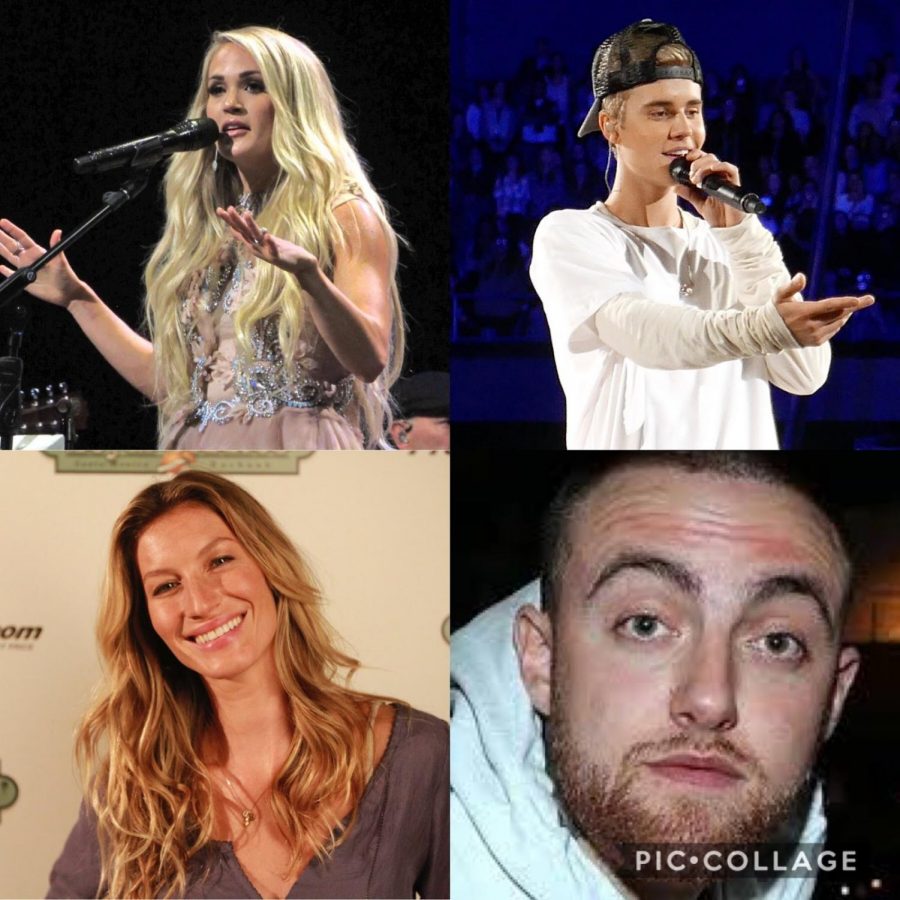 Celebrity gossip always keeps fans on the lookout, and it allows me a deep look into this month's celebrity gossip. Keep reading to find out the recent gossip that is circulating and gaining popularity. By reading this you will have the latest gossip at your fingertips.
 Pop star Justin Bieber and famous model Hailey Baldwin secretly tied the knot only two months after the proposal in New York City Their relationship is plastered all over social media and fans are anxious to find out details regarding their wedding. Recently the couple has gone on trips to meet each other's families. This couple is madly in love and were quick to make a life-long decision. They have mentioned holding a ceremony in Canada later on, they wish to have a big celebration with friends and family.
 The infamous pop artist and rapper, Mac Miller suffered from a drug overdose and passed away during the early days of September. Senior Lainey Anderson said, "I was saddened when I received the notification that Mac Miller had died. He was one of my favorite artists, it is sad." His ex-girlfriend Ariana Grande has continued to speak out on his behalf to show her remorse. Ariana agreed that Mac Miller's drug addiction was the cause of their toxic breakup, but she never wanted him to go how he did. After his death, Grande was quick to blame for leading Miller back to using drugs. Immediately her fans, along with Mac Miller's, rose to her defense. She said that it is wrong for her to be blamed for him not being able to keep himself intact.
 Country music star, Carrie Underwood is now pregnant with her second baby. This process was not easy, as she has hit many bumps in the road that has led her to where she is now. At the beginning of 2018, Carrie Underwood suffered from a severe fall right outside of her home; this was the first aspect that led her on an uneasy path. She recovered, and she and her husband began trying to have a baby once again. In an emotional interview with Good Morning America, Underwood spoke out about having three miscarriages in the past two years. The past two years have been tough for Carrie Underwood, but she kept her faith strong and has been rewarded with the pregnancy of her second baby.
 Gisele Bundchen, the famous and gorgeous model who is married to the New England Patriots quarterback star, Tom Brady, has spoken out about how she once seriously thought about committing suicide. Bundchen rose to fame in the early 2000s, at which point her modeling career reached an all-time high. However, she has developed a fear of small places and sometimes experiences severe panic attacks. In 2003 the model was on an airplane that had a lot of turbulence. This led her to a tough time during her late 30s as she would have nightmares and her fear of enclosed spaces began to worsen. Bundchen has recently shared these panic attacks with the public and seeks sympathy from her fans. She also said that becoming a mom has helped her enjoy her life more and allows her to stay calm. She enjoys life with her kids and cheering on her husband every Sunday, watching Sunday Night Football.
Tune in for the next edition of celebrity gossip coming out in December. Until next time… xoxo Gossip Girl.