The Brook Cook: Innovative and effortless ways to make Halloween healthier
Hang on for a minute...we're trying to find some more stories you might like.
  The holidays are right around the corner, and that means delicious food! There is Thanksgiving, Christmas and everyone's childhood favorite, Halloween! Coming soon is a day filled with candy, sweets, and chocolate. What if you could impress your Millbrook peers, family and friends with these easy Halloween treats for a party, or, no shame, yourself! Nowadays Halloween is commonly centered around the aspect of sugar. In contrast, these treats put a healthier spin on Halloween, as they have a higher nutritional value than the average candy bar. So whether you are looking for a healthy alternative or not a candy person like myself, these treats are just about being more creative in the kitchen.
The first recipe is "Gum and Teeth" Apple Snacks.
Ingredients:
a  red apple

natural peanut butter (or any nut butter you prefer)

miniature marshmallows
Steps:
Cut your apple into slices. The best way to do this is to cut your apple like a tic-tac-toe board. Once you have this, cut each slice in half so they are not so thick.

Secondly, you want to spread about a teaspoon of any natural nut butter on the flesh side of the slice.

Take a few mini marshmallows and place them on top of the slice with the nut butter.

Next, spread about a teaspoon more of the nut butter onto a second apple slice and place it on top of the marshmallows. Repeat these steps until finished.
 For an even healthier alternative, instead of marshmallows you could use sliced almonds to imitate vampire fangs. Apples, are of course, healthy as they are loaded with antioxidants and fiber. From the nut butter you are getting a great amount of protein that will keep you full until dinner and through practice. They also contain a good dose of healthy fats called monounsaturated fats. Natural nut butter has more nutritional benefits as there are  no added oils or sugars present.
 One of my favorite things in the world is chocolate, especially dark chocolate! If you want a healthy way to enjoy chocolate, then dark chocolate is the way to go. Dark chocolate has an array of nutritional benefits that you may have not associated with chocolate. A good average percent of cacao to look for when finding dark chocolate is at least 70% because the higher the percentage equals a more natural tasting chocolate. Reduced cases of cancer, inflammation and heart disease are all linked to just some of the perks of this type of chocolate. Just remember that everything is ok in moderation. The second recipe is dark chocolate Halloween candy bark. This recipe is perfect for transforming all your Halloween candy to the next level.
Ingredients:
1 bar of at least 70% cacao dark chocolate bar

An assortment of Halloween candy or any toppings you like
Steps:
Line a baking sheet with parchment paper.

Melt your chocolate in a double broiler or in 30 second intervals in the microwave.

Pour chocolate on parchment paper and spread in an even layer.

Sprinkle your candy on top of the chocolate and then place baking sheet in the fridge for about 30-40 minutes or until the chocolate has hardened.

When your bark is ready, take a knife and cut the chocolate in pieces. Finally, you now have delicious bark!
 All you have to do now is roll up to Millbrook at lunch or right before a dance practice or club meeting with your new sweet, snacks and if someone asks, tell them to get in the kitchen with The Brook's Cook!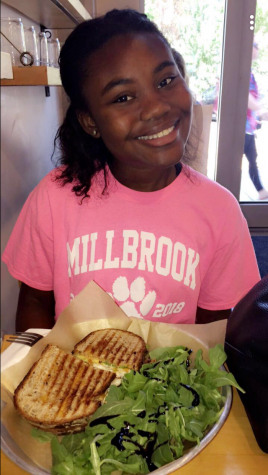 Justine Hooker, Staff Reporter
Hey y'all! I'm Justine, and I am so excited to be a part of the Cat Talk! I am a sophomore, and this is my first year on staff. At school, I am a part...