Birth of a Star: David Bowie
Hang on for a minute...we're trying to find some more stories you might like.
 This day seventy-two years ago was the birth of one of rock's most memorable icons, David Robert Jones, more commonly known as David Bowie. From his first album, David Bowie, to his last, Blackstar, his impact on the music industry still shines today. Born in 1947, Bowie started off his life with an artistic and musical view and was remarkably talented in the dancing arts, but he also had a rowdy side. This side of Bowie would eventually cause his iconic dilated pupil after he got in an altercation with his friend over a girl.
 Bowie's jump into the music scene started when he was fifteen with the creation of his first band, The Konrads. This start lead to an all-out battle for Bowie and his dream to become a pop star. From band to band and single to single, Bowie fell down on numerous occasions, only to stand up to face his dissatisfaction and failure. Near the end of this struggle, he changed his stage name from Davy Jones to the name we know and love today, David Bowie, after the American pioneer James Bowie. Under this name, Bowie released his first album, fittingly called David Bowie, but just like most of his other music at the time, it did not go anywhere. After that Bowie would not release any more music for the next two years.  
 This two-year break ushered in the Space Oddity era of Bowie's music; this is when he would release some of his most iconic songs such as "Life in Mars" and, of course, "Space Oddity." Despite "Space Oddity" being one of Bowie's most memorable albums, it was not a commercial success due to it's strange and abstract nature. Bowie continued this experimental form of music for years to come with songs such as "Ziggy Stardust" and "Starman." However, the late sixties and seventies were not kind to Bowie and saw only an inconsistent amount of success.          
  From his rocky start, he could only go up, and in 1980 the song "Ashes to Ashes" on his album Scary Monster (and Super Creeps) was a massive success. From then on Bowie would become an icon in the industry, and the next year he would collaborate with the legendary band Queen in the hit song, "Under Pressure." Bowie saw his peak in 1983 with the song Let's Dance which topped both US and UK charts. From here on Bowie would continue to delve into the experimental side of his music utilizing styles such as Jungle and Industrial. Bowie would also dip his hat into the acting world appearing in movies such as The Labyrinth in 1986, The Last Temptation of Christ in 1988, and in The Prestige in 2006.
 Bowie then took a break from the music industry after his album Reality in 2003. After ten long years, Bowie returned with the album The Next Day which was a smash hit. In 2016 Bowie released his final album Black Star which saw just as much or even more success. However, all stars fade, and on January 10, 2016, Bowie passed away from liver cancer. Much like a fallen star, Bowie left a massive explosion of creative and inspiring music for generations to come to enjoy. David Bowie was an inspiration to many people, and to finish off this tribute, senior Abigail Ostbye said, "I think Bowie's music still holds up today and would argue that it was ahead of its time and that he is (or should be) a big inspiration to aspiring musicians who haven't gotten their so-called 'big break' yet."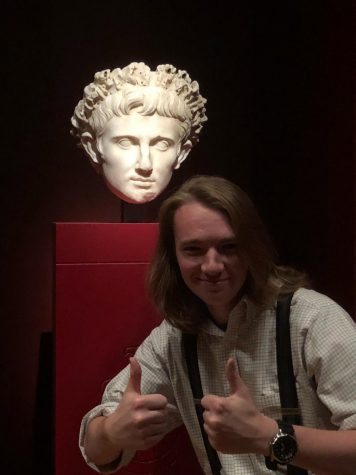 Jonah Manuel, Staff Reporter
Greetings and salutations. I am Jonah Manuel of the Cat Talk newspaper staff. I am here to express the ideas of the lost past and bring light to the truth....