Grey's Anatomy awarded as the longest-running medical drama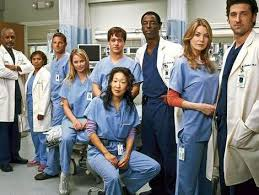 Hang on for a minute...we're trying to find some more stories you might like.
After 15 heartbreaking seasons full of death, romance, and lots of hot doctors, ABC's Grey's Anatomy is taking home the title of the longest-running medical drama in history! The Feb. 28 episode makes it surpass ER, which currently holds the distinction. Fans just keep coming back to catch the latest gossip stirring up in Grey Sloan Memorial Hospital. The show keeps throwing all kinds of plot twists at viewers, including passing out in the O.R, experiencing numerous plane crashes, and hiding from the police to avoid getting deported. Maybe it is something about the thrill and on-edge feeling fans get from the show that leaves them hooked. Whatever it is, Grey's Anatomy has been the most loved, and is now the most successful, medical drama in history!
 The show started off as a light, fun take on medical school and followed a young, beautiful intern, Meredith Grey, played by Ellen Pompeo, on her journey to becoming a full-fledged surgeon. Grey has a conflicting love affair with Dr. Derek "McDreamy" Shepherd, who turns out to be the attending neurosurgeon at the hospital she is interning for. Over the years, many of the oh-so-loved characters have sadly died off. "I watched Grey's Anatomy up to maybe the tenth season, and it was good for a while, but they kept killing off everyone that I liked," said sophomore Ashley Burnette, who is one of the many watchers disappointed by all the tragedies that happen on the show. To take the places of lost characters, others have been introduced to the cast over the years. The focus of the show was the interns, not the doctors, which brought youthfulness to the screen and attracted a younger audience.
 Many critics love to argue that as a show goes on, the quality gets worse. This may be true in some cases, but for Grey's Anatomy, nothing could be more wrong! In fact, each season has only gotten stronger and gained depth from all the deaths, new characters, and marriages. The show simply has not shown any promising signs of decline or irrelevance.
 Perhaps more than any other show on TV today, Grey's Anatomy is the one that, when you mention it, sparks conversationalists to reply, "That show is still on?" Thanks to fiercely loyal fans who have been with the show since the beginning, and new generations of viewers who continue to discover the joy and drama of Grey Sloan Memorial, the show is as popular as ever. Be sure to stick around for the last few episodes of season 15, and hopefully many more seasons to come!