Willy Wonka comes to Millbrook!
Hang on for a minute...we're trying to find some more stories you might like.
  Step into a world of pure imagination as the Millbrook theater program presents their rendition of Willy Wonka for the spring musical next month. There will be returning actors, as well as new talent, when they take the stage April 4 to April 6 each night from 7 to 9 pm. Admission for students is only $5!
  The musical follows a plot similar to that of Charlie and the Chocolate Factory, in which a poor boy hopes to win one of five golden tickets from a candy bar that would grant him a visit to the chocolate factory, run by a man named Willy Wonka (played by Vinnie Davies). Charlie (played by Meghan Sielaty), accompanied by his Grandpa Jo (played by Luke Young), goes to the factory, along with four greedy and gluttonous ticket-winners. After the other children get expelled from the factory in ways that correlate with their personality traits, only Charlie is left. Willy Wonka then congratulates Charlie on winning the visit to the factory and names Charlie his successor. Charlie and his family are also later invited to move out of their cramped, one-bedroom home and into the luxurious chocolate factory with Wonka. Junior Meghan Sielaty, an actress in the show, "grew up watching Willy Wonka and I feel honored to be in this show. Each day brings a new and fun challenge, and I can not wait to share this amazing story with everyone!"
  Tech theater has been working hard to make the show happen. Junior Preston Hewitt, lights technician, said that "this show is the best opportunity this year for theater and tech theater to work together and create something that both groups are proud of."
  At the play, there will be live music played by members of Millbrook's orchestra! The band has been working tirelessly to be able to play the songs successfully. The show, all in all, will be an amazing opportunity for students, parents, and teachers alike to see how both theater and tech theater collaborate to create an amazing show that will bring you back to your childhood with this nostalgic classic. Junior Meghan Sielaty agreed: "This show has a dedicated cast and crew, it's really coming to life. The songs are upbeat, and it's a joy to watch. Each person is working so hard to put on a great production, and you can tell!"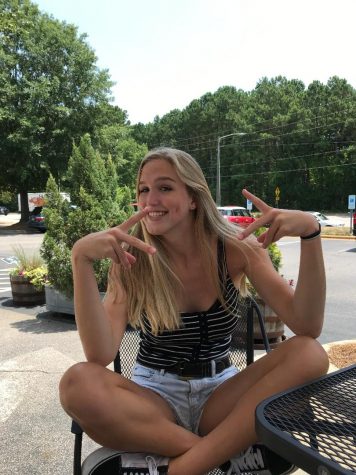 Margaux Hunter, Editorials Editor
Hey Cat Talk  reader, my name is Margaux Hunter, and this is my second year on the newspaper staff. I am a junior here at Millbrook High School. I am...