Spring cleaning: How to declutter like a pro
 There is nothing like the feeling of having a clean living space, and spring is the perfect opportunity to deep-clean yours. With the hype surrounding spring cleaning encouraging many to declutter their homes, you might as well join in and check all of the chores you have been procrastinating for way too long off your to-do list. Although you may dislike it now, cleaning can be fun, and there is nothing more motivating than knowing lots of other people are deep-cleaning their homes around this time of year along with you.
 You should begin by removing all clutter from the floor of the room you are starting in. Once you have open floor space, thoroughly vacuum the room. Repeat this process with any surfaces in the room. Pick up clutter on top of furniture and take everything off of shelves; then use the dusting tool on your vacuum to clean these areas. Also dust hard-to-reach spaces, working from the top of the room down vacuuming again at the end. In addition, wash windows with any type of glass cleaner you have on hand. In your bedroom, also consider switching out the cool-weather clothing in your closet to warm-weather clothing.
 Next, organize all of your belongings so that everything has a place. You may find the use of the KonMari method, an organizational system created by Japanese author and organizing consultant Marie Kondo, helpful to your spring cleaning techniques. The KonMari method says to get rid of any items that do not bring you joy. It also says to organize by categories. For example, when cleaning out your closet, separate all of your clothing into groups, such as shirts, pants, shorts, dresses, etc. Junior Lindsey Fleishman is a fan of this technique: "I tried the Marie Kondo method a few months ago, and I got rid of everything that didn't bring me joy. I felt so much more organized when I was done." For more cleaning tips from Marie Kondo, a great source of inspiration is her best-selling novel, The Life-Changing Magic of Tidying Up. After you have decided what items you can get rid of, consider donating to places like Goodwill, North Raleigh Ministries, or The Salvation Army. If you are looking to make some money, stores such as Plato's Closet, Clothes Mentor, and Uptown Cheapskate will buy used clothes from you.
 Another way to ensure you make the most of spring cleaning this year is to make a checklist of all of the tasks you wish to get done. Having a complete to-do list of everything you need to get done will help you to ensure that you will not forget anything. Plus, you will feel satisfied every time you are able to check something off.
 The easiest way to get over the procrastination that has stopped you from cleaning as often as you should is to just start. Turn on your favorite music, grab your cleaning supplies, and get to work–you will be much happier when you have finished.
About the Writer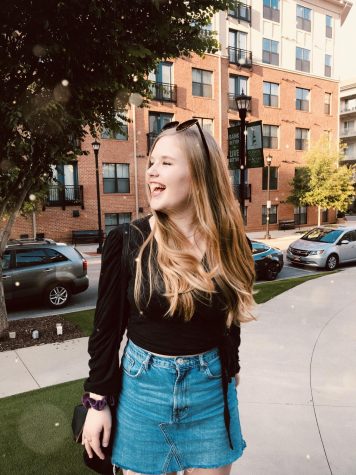 Sydney Smith, Co Editor-in-Chief
Hey, I'm Sydney! I'm a senior here at Millbrook, and this is my third year on the Cat Talk staff. Aside from newspaper, I'm passionate about tutoring refugee...