Celebrating Cinco de Mayo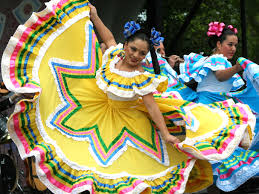 Every year we celebrate a holiday called Cinco de Mayo, but have you ever wondered why we celebrate it? Cinco de Mayo, also known as the fifth of May, is a holiday that celebrates the Mexican army's victory over the French at the Battle of Puebla in 1862. This event was significant because it showed the world that, although heavily outnumbered, Mexico could still claim a victory. Sophomore Tyler Hart said, "Real patriotism is having the courage to stand  up for one's country when injustice is being done."
 It all started in 1861 when Mexico became severely indebted to countries including England, Spain, and France. The president, Benito Juarez, failed to make debt payments to the European countries. This led to the countries sending naval forces to Veracruz, Mexico, demanding payments. Although Spain and England reached an agreement with Mexico, the French were still determined to keep fighting. On May 5, 1862, starting at daybreak, 6,000 French troops set out to attack the city of Puebla. When Juarez found this out, he sent around 2,000 soldiers to fight the French in Puebla. Although the Mexicans were outnumbered and had limited resources, they eventually defeated the French army.
 Cinco de Mayo is celebrated differently in America than it is in Mexico. In America, Cinco de Mayo has become very commercialized and is not being celebrated for being a significant victory, but instead being celebrated by going out for Mexican food with your friends. In Puebla, there is a massive parade that fills the streets with beautiful floats, music, food, and dancing. There are even historical re-enactments where people dress up as both the French and Mexican soldiers. For kids, there are colorful piñatas that are filled with cookies and candy. An iconic dish that is served during Cinco de Mayo is chicken tingas, which includes chicken cooked in a tomato base and normally seasoned with garlic, onion, and chipotle peppers in adobo sauce.
 Make sure to celebrate with family and friends this Cinco de Mayo!