Racing towards the crown
2019 Women's College World Series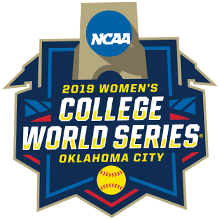 Starting in 1982, the Women's College World Series is the National Championship award handed out for NCAA Division 1 Softball each year.  The most prolific program in history is UCLA; they have captured 11 titles to date, followed by Arizona who has just 8. However, in the past five years, Oklahoma and Florida Universities respectively have been the perennial victors.
 Each year the WCWS is held in Oklahoma City, Oklahoma, starting on May 30. It will feature two four-team double-elimination brackets, where the winner from each bracket will face off in a best-of-three series for the crown. This year is no different than the past when it comes to the top teams either. The rankings are topped by Oklahoma and UCLA who each have just 2 losses and nearly 40 wins. This year the Southeastern Conference (SEC) is making noise throughout the country featuring 9 teams in the top 25, all of who could have a legitimate chance of winning the title. Alabama is the team with the best chance coming out of the SEC currently ranking at number 5. Senior Alex Santiago added, "I am a big fan of the SEC, no matter what the sport, so I really just hope an SEC team wins it all. Knowing that teams from the SEC have won in the past, I know it's possible, so why not have it happen again."  The best thing about this tournament is that anything can happen when it is a one game series, meaning that the unlikeliest of teams could win the title, but I would expect one of the perennial powerhouses to win it all again. If I had to guess, I would pick UCLA to bring home number 12 in program history and extend their all-time lead.
 The main reason for the prowess of this team is reining 2018 Player of the year Rachel Garcia. Garcia is a redshirt junior this year, meaning she won the award as just a sophomore and came back better this year and is once again a favorite to win the award. The pitcher leads UCLA and rarely lets batters on base and consistently helps her team offensively as well. Oklahoma slugger Jocelyn Alo is another player in search to accomplish this honor. Alo is an offensive leader for the top ranked Sooners and plays a crucial role in their success. Each of these players is greatly deserving of the award, but it is not the end of the season yet, so it is still up for grabs.