An inside look at the Millbrook Color Guard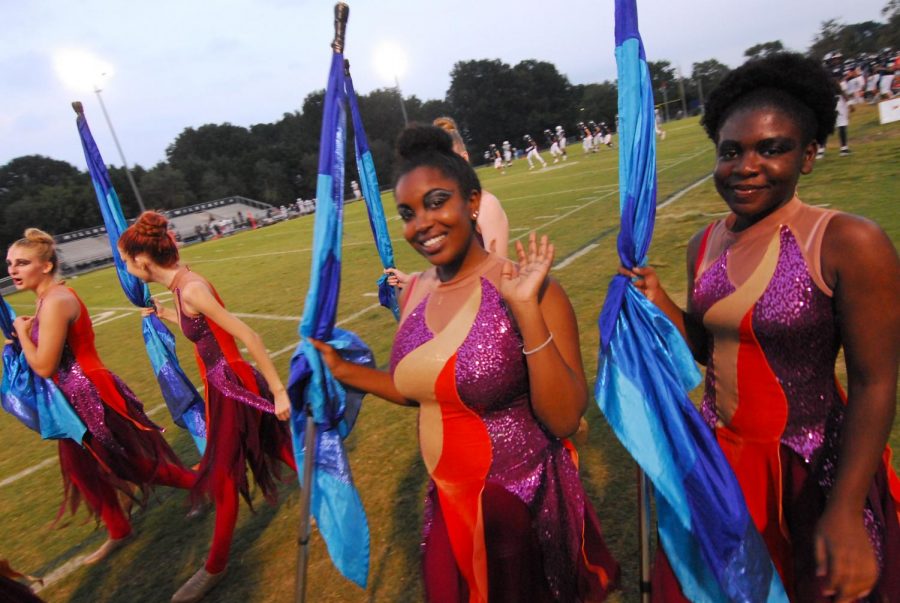 A new and ever-changing sport, Color Guard emerged in the 1930s as an entirely new concept: flag-waving. Still, it did not reach a large audience, and it would not be until forty years later that they became the visual aspect of a marching band show. In modern society, Color Guards can be found at nearly every high school. In fact, we have our very own here at Millbrook. Every halftime at football games, Color Guard can be seen tossing flags, rifles and sabres as they create various shapes along with the band. The entire length of the game, they stand aligned in the bleachers dancing with pompoms to cheerful pep tunes. But besides the performance, what do they do? The Millbrook Color Guard is eager to answer questions on what people want to know the most, starting with what they have been up to recently. 
  On September 28, the marching band traveled to Panther Creek High School. In the back of the bus, as always, was the Color Guard, fixing their makeup and hair and eating snacks. They wore glittery, striped red dresses and thick black eye makeup that resembled a bird for the theme of the show "Avian." Color Guard captain, senior Audrey Lomax, said that her last show is "so special because the program has grown a lot in the past few years, and we can finally show our full potential." She described her experience in these last four years as "such a positive environment for me throughout high school. I can't wait for more to come this year." 
  At Panther Creek, the Color Guard scored an impressive 87 out of 100, landing them in first place for their category. They brought back a large gleaming trophy, all ten of them grinning ear to ear, filled with hope for performances to come. The win was celebrated amongst them and the band, although otherwise unknown at school. It began the competition season with a bang, although much has happened so far. 
  Band camp is the first event of the season, taking place for two weeks in August and most rehearsals lasting twelve hours a day. "It's a super exciting experience where we learn marching basics and spend time bonding as a community and team," explained senior Marilyn Nunnery. They put together the show piece by piece, practicing on whatever field they can find, which sometimes is the scorching pavement of the parking lot. With periodical water breaks, they head back to where they left off, flag in hand, ready to practice choreography. It is much more intense and invigorating than it looks from the stands.  
  Color Guard starts as a challenge. New and scary, the flag is intimidating as it spins high above their heads, agreed the newbies sophomores Gia Atkins and Kate Thomason. Slowly, for up to eight seasons of teamwork and dedication, the girls acquire strength and skill for this sport. They have a bond with each other that comes from the shared experience of bruises, sweat, and tears and rehearsals full of inside jokes and laughter. They are dancers and athletes who rarely stay in place, moving in time with music as they solidly catch equipment and tell a story with their movement. They are the Millbrook Color Guard; be sure to watch for them in the coming halftime show. You will not want to miss "Avian," the marching band's best show yet.