Millbrook: why we are the best!
Millbrook High School is a place we all know and love. There are many extraordinary aspects of our school, including the amazing performances in the auditorium, the fantastic plays on the field, and the wonderful learning experiences provided by each and every teacher. Many students from other schools could argue that their school is the best, but I can assure you that Millbrook is the place to be!
Part of the reason that Millbrook is the best school of all time is the success we have in our athletics. With our dedicated and determined coaches, Millbrook has won many games against other schools. We are home to three-time Stunt championship winners, the Men's Basketball Team has made it to the playoffs consecutively over ten times, and we have over one hundred athletes playing in college. Millbrook's Class of 2019 had many committed students including Robbie Cicciari, Ashton Cashwell, Alex Santiago, and Jadin Keeter. In addition to the Class of 2019, students such as Larry Rountree, Tyler Driver, and Reid Herring are all doing very well in their athletics since leaving Millbrook. Right now, there are several students with offers already from colleges all over the country.
Another reason Millbrook is the best school in our county is our academics. Millbrook, as many of you know, is a magnet school and offers the International Baccalaureate Programme. The IB mission statement declares that, "The International Baccalaureate aims to develop inquiring, knowledgeable and caring young people who help to create a better and more peaceful world through intercultural understanding and respect." Millbrook also has many outstanding teachers who gave the school a proud graduation rate of 90%. Senior Daniel Morgan said, "IB taught me great time management and presentation skills. Mrs. Genesky has had the greatest impact on me because she genuinely cares about her students." Millbrook offers many AP and honors courses, ranging in every subject, and has a class for every student at the school. We are lucky to have a school that has programs in agriculture, business, film, culture, and journalism.
The last reason that makes Millbrook one of a kind is the arts program. Our auditorium, which is NOT haunted, has been home to many plays, musicals, and dance concerts. Our arts also contain activities such as Dance Team, Marching Band, Colorguard, Winterguard, Tech Theatre, and many more. The arts program puts on many shows every year, including musicals, plays, concerts, and performances. This year they will be performing Bad Seed in the fall, and Anything Goes in the spring. We also have great choral groups, such a Madrigals and Men and Women's Chamber, and accompanies that represent Millbrook well. This past September, Millbrook's Marching Band participated in Panther Creek High School's 12th annual invitational competition. Colorguard got first place for the first time in four years, and the band got second place in music in their class, second place in general effect (music, visuals, and props) and second overall in their class! Senior Jillian Brookshire, a member of Millbrook's Marching Band, added that "it's a great start to our season especially compared to last year and Mr. Payne is excited to see our improvement continue!"
Millbrook is not only home to great athletics, academics, and the arts, but it is also home to all of us. It is hard to walk down the hallway and not see a smiling face. Although school may not always be the most fun, with all of our talents, we have made Millbrook more than a school; but a place full of love and laughter.
About the Contributor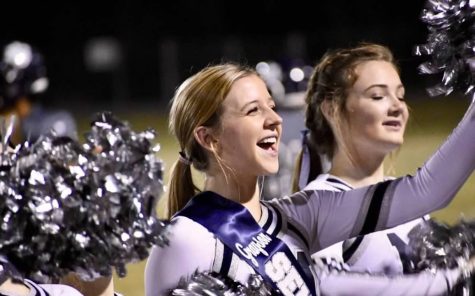 Grayson McClendon, Co Editor-in-Chief
Hey y'all! My name is Grayson McClendon, and I am so excited for year 3 writing for the Cat Talk! At Millbrook, I am a part of Varsity Cheerleading,...