Animals that store a toxic surprise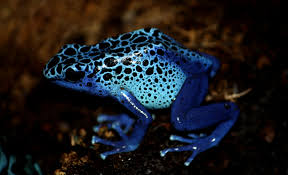 There is a fascinating science behind the wonders of poisonous animals. How is it possible that animals as small as spiders and frogs could be harmful? By definition, poisonous animals typically account for those that release toxins when you eat them. Venomous animals release their venom through bites. The release of these toxins is often due to a reaction of self-defense. Sophomore Nora Sykes is familiar with these types of animals; "I work at Pine Knolls Shores Aquarium where I work with venomous snakes and other animals like jellyfish and stingrays. My job is to take care of them, maintain them, and supervise visitors who like to bother them."
  Most of the threatening snakes like cobras and black mambas are venomous. The most venomous snake in the world is found in the central east areas of Australia and is called the inland taipan. According to research, the saw-scaled viper is the snake responsible for the most human deaths. They are found in dry savanna regions above the equator on the eastern hemisphere. The World Health Organization stated that there are approximately 5.4 million people bitten by snakes and 2.7 million poisoned by this each year. The majority of these bites happen in Africa, Asia, and Latin America. The chances of getting poisoned by a snake is very low, and you are more likely to get cancer or even struck by lightning than to die from a snake bite. Due to our medical advances in the United States, treating bites is more manageable, but in underdeveloped countries, the fatality rate is much higher.
  Frogs, toads, salamanders, and other amphibians are examples of poisonous animals. Most of these animals carry the toxin in their own cells and skin for self-defense. Poison dart frogs are one of the commonly known predators to look out for. Their chemicals are very dangerous to humans, and this can be reflected by their bright colors. They have originated in central tropical regions of South America.
  While there is knowledge that these venomous and poisonous animals can affect other people, why do they not affect themselves? Due to their evolving resistance of the toxins and their ability to safely store toxins in compounds, they are able to survive without hurting themselves. There is still research going on about these creatures and their many characteristics and biological processes. It is interesting that some animals have this ability while others do not and that the level of toxicity varies. With so much information, there is so much more to learn about these captivating animals.