The Real Deal: Was the Apollo 11 mission a government hoax?
  Since the 1970s, Americans have questioned the legitimacy of the Apollo 11 moon landing with Neil Armstrong and Buzz Aldrin being the first two men on the moon. The conspiracy theories began to crop up around 1970, when public trust in the government was dropping. There has been a recent resurgence of people who believe that the Apollo 11 mission was a hoax. A Gallup poll from 1999 showed that six percent of Americans believe it was a hoax, and five percent are not sure whether it was real or not.
  There was definitely a motive for America to fake a moon landing. 1969 was the height of the Cold War, and with the Space Race becoming more and more intense, America needed to one-up the Soviets and get a man on the moon. So, instead of embarking on the difficult, expensive, and dangerous mission of sending a man to the moon, the idea is that America took the easy way out and staged the moon landing. Ironic since then-President John F. Kennedy said we needed to go to the moon, not because it was easy, but because it was hard. 
  The pictures from Apollo 11 can only be viewed through NASA, so there is no independent organization to corroborate the legitimacy of the mission. In addition to this, the pictures also do not show any stars in the sky. If the pictures were taken in space, then stars should be apparent in the background. 
  The most noteworthy piece of evidence in support of the hoax is the American flag, freshly planted by Buzz Aldrin, proudly waving in the wind. Seems normal right? Wrong. Since space is a vacuum, there is no wind. Those who believe that it was a hoax say this is proof that the moon landing was a setup orchestrated by the government and NASA. 
  In reality, the Apollo 11 mission was, in fact, real despite the evidence proving otherwise. The stars are not visible in the pictures because the surface of the moon is so bright that the stars are not discernible. The flag was simply crumpled up during the trip to the moon, and Aldrin had just twisted the pole of the flag to stir up moon dirt to bring back to Earth. Senior AJ Kurke thinks that "if you believe it was a hoax, then you should be best friends with Descartes and doubt everything around you. Why would the government and NASA lie?" During a time of fear and uncertainty around the world, putting men on the moon was a major victory for America, not only on the world stage, but also within our country. That is the Real Deal. 
About the Writer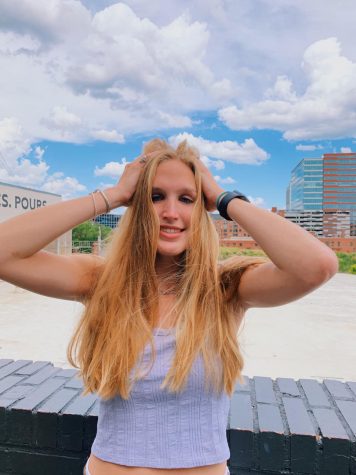 Margaux Hunter, Section Editor
Hey Cat Talk  reader! My name is Margaux Hunter, and this is my third year on the newspaper staff. I am a senior here at Millbrook High School. I think...