Decluttering for the new year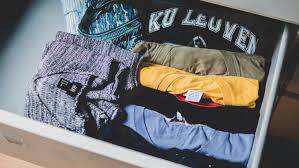 New year means a new you, right? Well, that can be hard if your environment is cluttered with old items that play no part in your current life. There are many tips and tricks that you can learn to start off your new year clean, whether you are planning to declutter your whole house, your room, or any other setting of your choosing. 
  Junior Jennifer Olguin-Garay said that she "usually starts off by making lists of what I plan to organize, kind of like a schedule to keep me in check." That is a great way to stay focused while decluttering so that you can get it done much sooner. Another way to start off is by using the six month rule. This rule states that if you have not used the item in the last six months then throw it away because chances are you will not use it in the next six months. This is flexible with items associated with a holiday or other celebrations in which you might use the item annually.  It might seem harsh at first, but it is surely one very effective way to declutter. One important fact to remember is that material items do not equal happiness or wealth, so do not let that be the reason you will not toss something. If you are planning on cleaning out your closet or your drawers, do not forget that you can turn those clothes into something useful. There are many ways to get rid of your clothes other than throwing them away that will benefit both others and yourself. One way is turning your clothes into cash by selling them to shops such as Platos Closet or online using websites such as eBay. You can also donate them to Goodwill or other thrift stores so that you can make sure your clothes are not being wasted; you can also donate objects along with clothes. 
  A lot of people do not like cleaning because they see it as boring or stressful; if you are one of those people, try to make it fun! Invite some friends over to help you clean out your space, and maybe later you can return the favor and help them declutter. One other way to put you in the mood to clean is by listening to some of your favorite tunes. One thing to make sure of is that you are taking breaks so you are not wearing yourself out.  
  The sooner you start cleaning, the sooner you will start to feel better about the year ahead. Start off your new year right and clean!