Decreasing bee populations and the honey industry at risk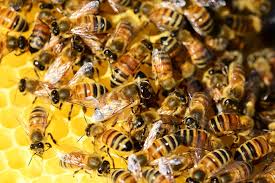 With the hard work of little buzzing bees, we have had the ability to use their sweet, thick syrup from everything to medicine and to sweeteners for centuries. Unfortunately, bee populations have been decreasing drastically in the last 10 years. Reasons for these large decreases can be connected to pesticide use, pests, diseases, and farming techniques such as monocultures. Researchers believe that one of the biggest threats to bees is Varroa Mites, which are parasites that reproduce in bee colonies and cause a disease called Varroosis. According to the Bee Informed Partnership, in 2018-2019, Nevada, Louisiana, and Iowa suffered over 50% losses for the winter season. California has hundreds of thousands of almond tree acres that need over a million bees to pollinate them. Numbers are decreasing so fast that one out of four bee species could go extinct without further prevention. Fortunately, there are a few things you can do to help bee populations. Contributions can be as simple as planting daisies, marigolds, or herbs, like mint and sage, to attract bees so they can pollinate.
  The honey that is produced is a big part of the world wide economy, so it is important that the honey production process is sustainable and efficient for the safety of the bees and the planet. Bees get nectar from flowers, and that nectar is stored in a special stomach where enzymes are added. The mixture gets put into a cell and nurtured until bees need it for their own use, or the excess traces get sold for commercial use. One hive can equate to about 65lbs of honey a year. Not only are bees important for the sweet syrup they produce, but they are so also crucial for many other foods and resources we need. Bees pollinate roughly 80% of the foods eaten in the United States. This factor is important to realize when it comes to food production. Junior Annie McCarthy said, "Without bees, our food supply would decrease, and people in the future could potentially struggle." 
  Honey has a variety of vitamins, minerals, antioxidants, amino acids, and is great for healing sore throats, but recently companies and manufacturers have been cutting corners by selling what is called "fake honey." A lot of consumers do not know exactly what is in their luscious golden bottle of "honey." Adulterated honey can be mixed with corn syrups, rice syrups, and other unnatural sugars. One case that has raised hesitation is the honey imports from China. Some Chinese honey has been linked to having filler ingredients. Labels like Grade A, 100% natural, or pure can give mixed messages to those looking for quality honey. There are not many federal regulations on honey even with previous cases in China and Australia in which exported honey was not pure. 
  With changes to agricultural practices and the incline of our economy, bees and honey have experienced major hits. More laws need to be in place to protect the bees, the honey industry, and provide the best quality honey for consumers to buy. Agriculture around the world depends greatly on bees, and their health is important for our economy. For more insightful information, check out Netflix's original series Rotten for an episode all about bees and the honey industry.