Examining all the ways to celebrate Good Friday
Tia Hunt, Web Design Editor
April 10, 2020
 With Easter only two days behind it, Good Friday is sometimes forgotten in the excitement. However, this holiday is just as important and is celebrated all throughout the United States, even though only twelve states recognize it as an official holiday. The holiday's history stems from the same time as Easter. Good Friday is a day for Christians to remember Jesus and mourn his death. Then, on the following Sunday, Easter is used as a celebration of his resurrection. For many families, Good Friday is one of the most important holidays of the year. Family members come together and gather for a weekend of religious significance. 
  Traditions of the holiday vary all across the country and the world, so there is no right way to celebrate. Many people refrain from eating meat, not including fish, as a way to fast in honor of Jesus. In older cultures, meat was associated with celebrations, but fish was eaten every day. By allowing fish but not other meat, Jesus's death is being remembered in commemoration and not a party as a sign of respect. In some churches, members do not eat anything to fully express their sorrow. Another common tradition is ringing church bells thirty-three times. This is done to remember each of Jesus' thirty-three years of life before crucifixion. A practice similar to this one is remembering Jesus' life through plays and other visual aids. Junior Jennifer Olguin-Garay said, "We usually participate in a drama depicting everything that Jesus Christ went through. We wear our best outfits and go to mass afterward. Then we put ourselves into prayer, usually with one rosary, and then confession." 
  Flying kites in Bermuda is done to symbolize Jesus going to heaven. In Ecuador, yearly parades commence with men dressed in purple robes and pointed masks. Men dressed as Jesus follow behind them carrying large wooden crosses. Multiple actions are banned across the world in order to show respect for Jesus. In Ireland, gambling and drinking are banned. In Germany, dancing and clubbing are frowned upon. No matter how the holiday is celebrated, its meaning goes across cultures and helps to unite Christians with their love for Jesus.
About the Contributor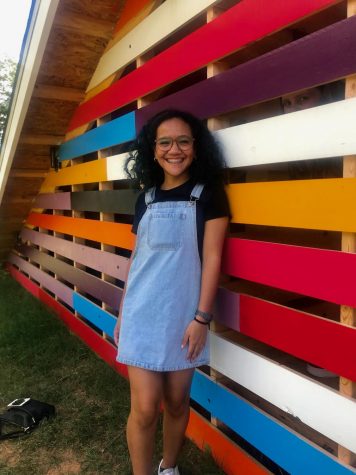 Tia Hunt, Web Design Editor
Hey Wildcats! My name is Tia Hunt, and I am super excited to be a part of the newspaper staff as the web design editor this year. Other than newspaper,...