Daniels Middle School to be renamed Oberlin Middle School
  As tensions continue to rise across the country following the boom of Black Lives Matter movement, it seems that major changes are occurring at a rapid rate. The city of Raleigh holds no exception to the many changes, and city officials  in various areas have been working tirelessly to make the city more inclusive. While there are many changes occurring around the Triangle, perhaps one of the biggest has been in regards to a large WCPSS school. After a unanimous vote by the board members at WCPSS on Tuesday, it was determined that Daniels Middle School would be renamed Oberlin Middle School.
  Josephus Daniels, the namesake of the school, was originally remembered as a prominent and heroic figure in the history of Raleigh. He has previously been celebrated for his work as an editor and publisher of the News & Observer, and has been honored with both a large statue outside the old News & Observer building and being the namesake of Daniels Middle School in Raleigh, as well as Daniels Hall at North Carolina State University. Unfortunately, as recent events have unfolded, information regarding Daniels' racist actions have been brought into light. A major factor in the decision to remove Daniels' legacy throughout the city of Raleigh has to do with his role in the 1898 Wilmington Massacre which burned many black owned businesses in the area and killed over a dozen black citizens. 
  On Tuesday morning, workers removed the statue from Nash Square by request of the Daniels family. Unlike other white supramacist monuments (such as UNC Chapel Hill's controversial 'Silent Sam' statue) that were dismantled following days of protest and anarchy, Daniels statue was briskly wheeled away by local construction workers in under two hours. It was then decided Tuesday evening that Daniels Middle School would be renamed Oberlin Middle School in the fall, stemming from the school's longtime location on Oberlin Road as well as the entire Oberlin community, which was founded by former slaves. The school, originally named after Daniels in 1956, hopes that the name change will provide the school with a more inclusive environment that aims to welcome all students and families. 
  Many alumni of the school and neighboring schools have decided to speak out regarding the recent change. Rising senior Hannah Regan, an alumni of nearby Martin Middle School, said, "l think it was a good decision with everything going on in the world, and l think it would be disrespectful for the county to not change the name or take down the statue. Honestly it seems like they should have done it years ago, and it is disappointing to see that they needed all of this stuff to happen in order to push them in the right direction. I am surprised that it happened this quickly because usually it takes so much time to get stuff done, but l think they made the right call. l hope that in the future it will make the students and staff feel more safe and won't cause too much controversy."
  It is currently unknown as to whether the remaining homage to Daniels in the Raleigh area, Daniels Hall at North Carolina State University, will be renamed.
About the Contributor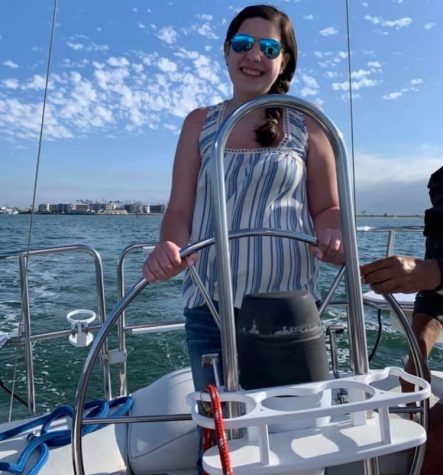 Maggie Cargile, Editor-in-Chief
Hey, Cat Talk readers! My name is Maggie Cargile, and I am so excited to serve as Co Editor-in-Chief this school year. It is my third and final year on...