Lights! Camera! Action!: Catch these amazing movies on Netflix before September ends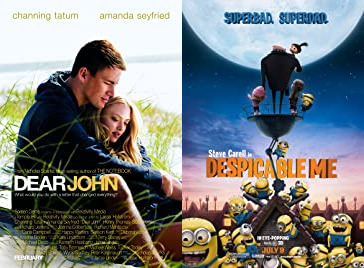 Everyone knows that when Netflix announces what is being taken off each month, everyone quickly looks to see what is leaving so that we can catch them before they are taken off. Everyone always gets so annoyed when the movies that are so amazing on Netflix are being taken off. Sadly, one of the most beloved Nicholas Sparks' movies, Dear John, is leaving Netflix at the end of the month. Another fan -favorite, animated movie Despicable Me, is also leaving Netflix at the end of the month.
  Dear John is one of many people's favorite Nicholas Sparks' movies because of the romance and the drama in the movie. This movie is focused on a US Navy Seal, John Tyree, when he comes to visit his father at home and meets a college girl, Savannah Curtis, on his visit. In the beginning, their love for each other is very strong, and they spend a lot of time together before he gets deployed for numerous years. During this time, things become very hard and emotional for both John and Savannah, while John is in an increasingly dangerous deployment. The only way they can stay in touch is through letters and occasionally meeting in person. However, through a  letter,  things get very complicated really fast that brings consequences for both John and Savannah. After a tragic accident happens during his deployment, John is sent home once again for some much-needed time off. He then finds out why everything got so complicated during his visit back home, and he starts to understand what happened. This movie is definitely worth checking out before it becomes unavailable after this month.
  Another movie that is leaving Netflix this month is the heartwarming fan-favorite,  Despicable Me. When people think about this movie, they automatically think about the band formed between a supervillain and three orphan girls. With a man who only loves to steal the world's most valuable possessions, Gru creates a plan to be able to steal the moon. With all of his little yellow minions and his one-of-a-kind arsenal of weapons and war machines, Gru is ready to get rid of anyone that gets in his way of stealing the moon. However, none of his calculations or theories are preparing him to be able to successfully steal the moon, so he creates a plan that he knows will work. By using three orphan girls, who help him sell cookies as a disguise for stealing a piece of equipment, Gru hatches a new plan to steal the moon. Meanwhile, as these three kids are hoping to find a good dad, Gru finds himself wanting to be their new dad when he least expects it. This is yet another movie that is really worth checking out on Netflix before it becomes unavailable.
  Before this month ends, make sure that you catch these two movies. Make sure you are ready to be fascinated with how amazing these movies are. Sadly, if you fall in love with either of these movies, you will only be able to watch them this month until another streaming service picks them up.