Celebrity Hot Seat: Everything you need to know about the Kardashian family
 After what will be fourteen years, twenty seasons, and hundreds of episodes, Keeping Up with the Kardashians is coming to an end. The family recently announced their decision to move on and air their last season early next year. The family did not give any reasoning as to why they decided to end the show, but various rumors have circulated. Some suggest that it could be due to Kanye's presidential run, Kourtney's attitude towards the show, or the decline of traditional cable TV.  However, the family confirmed that there wasn't any significant reason as to why they decided to end the show, but it was mutual. The kids who began the show have their own kids and it became difficult to film all together. The family thanked everyone who played a role in the show and how all of their lives have been greatly impacted by it. Due to the show's popularity, each and every family member has gained publicity. Not to mention gaining millions of Instagram followers, the family has launched clothing and fragrance collections, beauty brands, mobile game apps, and health/wellness companies throughout the time the show has been on the air. Millbrook senior Cilla Sikes commented on the announcement of the show ending: "I am so heartbroken that they are ending the show; it is like the only thing I watch. They are my idols, and I have loved watching them grow up."
  On July 4, Kanye West announced that he would be entering the 2020 presidential race on Twitter. Kim appeared to support his decision by responding to his tweet with an American flag emoji. Shortly after, he outlined his platform of pro-life and anti-vaccinations in an interview with Forbes.  The family stated that they are  supportive of Kanye's presidential run, but they don't agree with his recent interview on his political platform. At his first political rally, he discussed his pro-life platform by saying that he and Kim discussed abortion when she was pregnant with North. Multiple sources confirmed that Kim was furious that he would mention something so personal at a political rally. Shortly after this, Kim addressed his mental health on Instagram by saying that Kanye has bi-polar disorder and that her family is powerless in getting him help. She also asked for "compassion and empathy" from the public. Kim and Kanye have been married since 2014 and have 4 kids together, so they are trying to work through their differences privately.
  Khloe Kardashian and Tristan Thompson are reportedly back together and have supposedly been looking at homes together in Los Angeles. The couple started dating in September 2016, and they currently have a 2 year old daughter, True. Khloe confirmed that he cheated on her multiple times throughout their relationship, but they officially broke up in late February 2019 after he was seen kissing a friend of Kylie's, Jordyn Woods, at a party. After a year and a half of co-parenting, they are back together.  Even through all of the family drama, the show has entertained millions for many years. It will be missed.
About the Contributor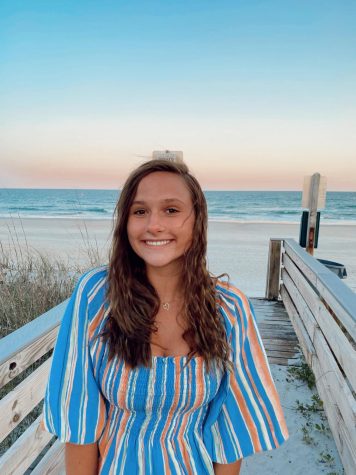 Michaela Teachey, Staff Reporter
Hi! My name is Michaela Teachey, and I am a senior at Millbrook this year. This is my first year being a part of newspaper staff, and I am super excited!...