Dear Catty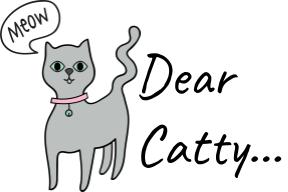 Catty, Advice Columnist
October 5, 2020
Dear Catty, 
I keep falling asleep during my classes! How can I stay awake during online school? It's so hard to keep my eyes open! Please help. 
Sincerely, 
Sleepy Senior
Dear Sleepy Senior,
I struggle with that too! One thing that has mitigated my tiredness is drinking coffee. It helps me wake up and stay awake during the day. Another really important thing to remember is to do school at a desk or somewhere that you are sitting up. I started the year attending class in my bed, and it was so hard to stay awake! Moving to a desk where I have all of my materials has helped a lot. The last tip I have is to move around as much as possible during the day. Try and give yourself time to wake up and get moving before your first class. If you do not eat during the lunch break, go take a walk outside or just do something active! If you have a break between classes, play with your pet, get up and dance, or stretch. I hope all of these tips help you stay awake during your classes!
Dear Catty, 
How do you stay motivated to keep going to your online classes when you are in the comfort of your own home? I continue to be distracted by my phone and my family in the house! Can you offer any suggestions? 
Sincerely, 
Unmotivated Upperclassman
Dear Unmotivated Upperclassman,
I know that it can be super hard to stay motivated, especially when we are not going to school in person. One thing I do to help me stay focused is to put my phone in a different room. We all know phones can be SUPER distracting, so I always try to put it away and give my full attention to school. Another strategy I use to stay motivated and on top of my work is to write all my assignments down in an agenda. Although it may seem old-fashioned, writing things down always helps me remember what I need to do that day. Also, try to remember to take remote learning seriously. Even though we are not going to class in person, it is still school, so we should try our best to put in the same amount of effort as we would in a normal school year. Wishing everyone good luck in all of their classes this semester! 
Dear Catty, 
I'm so tired of staring at Google Meet profile pictures instead of seeing my friends' actual faces. I miss going to school! How can I still interact with my friends through remote learning?
Sincerely, 
Struggling Sophomore
Dear Struggling Sophomore, 
I understand that you miss your friends, and I miss my friends too. Hanging out with friends is important and is a great outlet to just have fun, but during this time with COVID-19, we must remember social distancing. One way you can interact with your friends is through a Group FaceTime. This is an excellent thing to do if you cannot be with your friends in person. Another thing you can try is meeting up with your friends somewhere that you can remain six feet apart. Raleigh has awesome parks and trails where you and your friends can meet up before it gets too cold! Of course, even though it is safer to meet outdoors, you still need to stay 6 feet apart and wear a mask, especially if you encounter people outside of your trusted friend group. Let me know if you need any more ideas! 
Sincerely, 
Your friend Catty