Lights! Camera! Action!: Stay in the football realm with this month's top heartwarming movies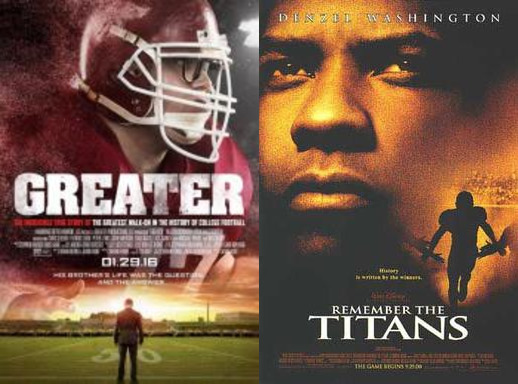 Every year when November rolls around, most people think of football as the most interesting thing to watch. Just like when you are done with Thanksgiving dinner every November, and everyone heads over to the living room to watch their favorite football teams play because no matter what, football is on their minds. If there is ever a time when you cannot seem to find any games on TV, then here are some heartwarming football movies: Greater and Remember the Titans.
  Greater is an inspiring movie, based on a true story, that will pull at your heartstrings and is currently streaming on Netflix. The main character, Brandon Burlsworth's, dream was always to play for the Arkansas Razorbacks, but he was considered too short and fat to play on a Division I team. Despite what Brandon was told, he did not let it stop him from making his top-choice team as a walk-on, without recruitment, in 1994, while others doubted his ability to make it in the sports world. Despite persistent odds and being written off by his teammates and coaches, Brandon still chose to persevere and did not stop working. Brandon's devout faith in God comes into play when he constantly stays humble and subtle, as he is shown to be the hardest working player on the team, both on and off the field. He manages to become the first Razorback to have significant success in school while still playing. Brandon went from being doubted by his teammates and coaches to the most well-respected player in the program's history. Unfortunately, a terrible accident occurs after getting drafted into the NFL that leaves everyone who knew Brandon crushed. You will have to watch this movie to find out the rest!
  Remember the Titans is another fan-favorite movie full of motivation for all and leaves you in awe in the end. It is currently available on Disney+. It is based on a true story of T.C. Williams High School in Alexandria, Virginia, where football always meant everything to the town. Each game was celebrated more than the last, and each playoff game was considered more important than anything else. So you could say that every taste of football in this town gave everyone very powerful emotions in return. However, after the local school board was forced to integrate an all-black school with an all-white school, everyone, including the football team, was put to the test. As athletes from both schools tried to adjust to the new standards, they also had to come to terms with being on the same together. Throughout the movie, relationships and trust grow between the teammates as they try to become the best team they can be while being one of the first schools in the country to integrate. Disney portrays the tough obstacles of becoming one team by showing the heartwarming outcome of how they learn to love and cherish one another, no matter their race. Sophomore Hannah Olson recommends Remember the Titans: "I love this movie and how it is really heartfelt from seeing two segregated teams come together and build a family… The movie shows that if everyone shows respect towards each other, then you can build a bond and grow to love others more."
  As shown above, both of these movies show the unbelievable outcomes through each obstacle that gets in their way and leaves you feeling like you can accomplish anything you set your mind to. Check out these touching football movies sometime this November and get ready to be amazed.