This Day in History: Celebrating 88 years of Radio City Music Hall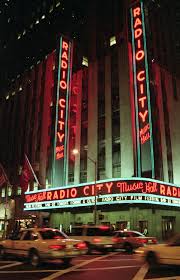 For nearly a century, Radio City Music Hall has been a landmark in New York City. Home of the world-famous Rockettes, the iconic "Showplace of the Nation" first opened its doors at 1260 Avenue of the Americas 88 years ago today. The theatre is known for hosting world-renowned performers, memorable concerts, and its annual Christmas Spectacular. 
  Nestled in the heart of Rockefeller Center, the hall was originally intended to become part of the Metropolitan Opera House. However, plans for the opera house were scrapped in 1929. The music hall houses 5960 seats and was the largest venue built for Rockefeller's Radio City section, with the second largest being Center Theatre. The concert venue was a wild success initially, until declining patronage in the 1970s nearly drove the construct to bankruptcy. On the verge of closure, Radio City Music Hall was officially declared a New York City landmark in May 1978, restored and remains open to this day. 
  The venue is perhaps most known for its large auditorium (the largest in the world at the time of construction) and the variety of art contained within the venue. The theater was originally intended to house stage shows; however, it now primarily hosts concerts and televised special events. These special events often include the Tony Awards, the Grammy Awards, the Daytime Emmy Awards, the MTV Music Video Awards, The Radio City Christmas Spectacular, and the NFL Draft. 
   Another mainstay of Radio City Music Hall are the world-famous dance troupe, the Rockettes. First known as the Roxyettes, the dancers have been with Radio City Music Hall since its inception. While these dancers perform year-round, they are primarily remembered for their annual Christmas shows and performances in the Radio City Christmas Spectacular and the Macy's Thanksgiving Day Parade. Senior Bridgit Sult said, "Growing up as a dancer, I have always loved watching the Rockettes performances and backstage videos. The dances are very classic and sure to get anyone in the holiday spirit." While native to Radio City Music Hall, the Rockettes also had a touring company until 2015. 
  It is hard to believe that it has been over eighty years since Radio City Music Hall first opened its doors in New York City. Though it is no stranger to hardships, the structure remains intact and continues to bring joy to millions of people all over the world each year.