Unravel the Pages: Let sparks fly with a Nicholas Sparks novel this Valentine's Day
  Love is in the air! Valentine's Day is upon us. Celebrating the holiday looks different for everyone. It could be spending time with a significant other, indulging in a sweet treat, or watching a cute rom-com. For the book lovers out there, a charming novel may be more up your alley.
  If you have ever heard of The Notebook, then you have Nicholas Sparks to thank. Nicholas Sparks is a New York Times bestselling author who has written a multitude of novels with strong romantic and touching plots. Many of his novels have been turned into groundbreaking movies that have forever captured fans' hearts, but at the heart of the movies are the novels themselves. If you are a "movie-before-the-book" kind of person, consider reading the books first because Nicholas Sparks' novels are a must-read.
  Sparks currently resides in North Carolina which is a common setting for many of his novels. A classic and favorite novel of Sparks is A Walk to Remember. The book tells the love story of two unlikely people. Jamie is a shy and intelligent girl who is passionate about her faith and loves her father dearly. Her father also happens to be the town's minister. Landon, on the other hand, has a "bad boy" reputation that would never be acceptable for Jamie and her father's expectations. Landon does not always make the best decisions and often gets led astray by some of his friends. Jamie and Landon are from two different worlds and initially have no interest in each other. On paper, they should not match but fate and faith eventually leads them together. A Walk to Remember is riveting, touching, sweet, and a cry-worthy novel perfect for Valentine's Day. 
  While A Walk to Remember is an older novel written by Sparks, his newer novels do not disappoint. If sad or sappy novels are not your preferred romance read, then See Me is the perfect pick! See Me is a fast-paced, suspenseful, and thrilling romance novel. It is also another story of two unlikely lovers named Colin and Maria. Colin has a troubled past. He is trying to get away from his issues and build a better life for himself. Maria already has her life together. As the daughter of an immigrant family, she has worked hard to accomplish the goals she wants, but she too has a past. Unfortunately, her past comes back and begins to threaten her life and relationships. After an unexpected confrontation with each other, Colin and Maria realize they need each other. Their hardships bring them closer together as they encounter experiences that test their love and their lives. See Me has it all: romance, action, and a wonderful put together story of the importance of family. 
  There is something about a good romance book that leaves one with that gooey feeling inside. Senior Joanna Slater thinks that authors use romance elements often in novels because "no matter the plot, people can relate to those emotions." Whether you are rooting for the characters to stay together, break up, or finally realize their love, romance novels will continue to pull the heartstrings of those who love to read them. A Walk to Remember and See Me are excellent books to read leading up to Valentine's Day. Light some candles, grab a blanket or a sweet treat, and dive into these heartwarming stories!
About the Contributor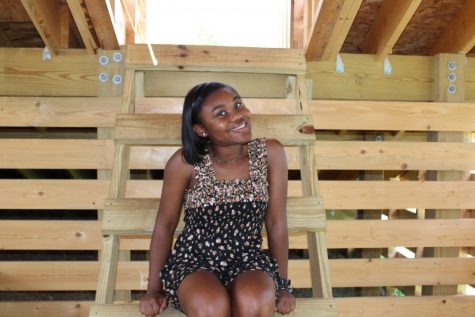 Justine Hooker, Section Editor
Hey, y'all! I'm Justine, and I am a senior this year at Millbrook. It is so great to be writing for the Cat Talk for my third year! At school, I am a part...