Breaking News: Derek Chauvin Convicted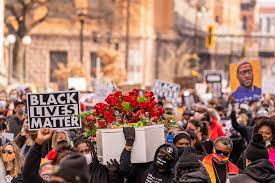 On April 20, Derek Chauvin was convicted of second-degree murder, third-degree murder, and second-degree manslaughter. Chauvin is a former Minneapolis police officer who murdered George Floyd last year. He was caught on camera pinning his knee on Floyd's neck for over nine seconds, while Floyd repeatedly stated, "I can't breathe." 
  Currently, Chauvin is facing twelve and a half years in prison, but the prosecution is attempting to achieve a higher prison term. They hope to see Chauvin behind bars for up to thirty years. Usually, sentences are served consecutively, but Chauvin will likely be serving concurrently, which means his sentences for the three convictions will be served at the same time, with the longest sentence controlling the total amount of prison time.   
  Chauvin is currently being held in a state prison to await further sentencing. He is in an administrative segregation status, which means he is being held separately for his safety. This status is enacted when the presence of an individual in a general population is a concern, which is often the case in crimes such as rape and hate crimes. 
   During the trial, the defense was focused on blaming Floyd's death on an overdose due to the fentanyl and methamphetamine present during his autopsy. However, according to the medical examiner, while drug use and heart disease contributed to his death, the compression and restraint on his neck and body were the primary cause of death.
  The Chauvin trial was Minnesota's first televised criminal case. Technology has played a critical role in changing the verdict of this case. The cell phone recordings from the murder were shared on social media and went viral, sparking months of protest and a civil rights movement calling for racial justice and condemning police brutality.