Breaking News: US Suffers nationwide chicken shortage
Info on supply and demand thanks to the best civics teacher in the world Mr. Segal!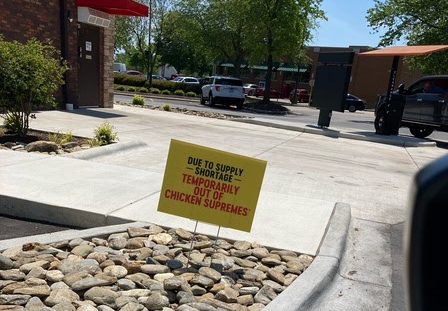 Since COVID hit last year in early March, many different products have faced shortages, but currently, the US is being faced with a nationwide shortage of chicken. 
   This shortage has impacted more than just family-owned and local restaurants; it has also affected fast food industries like Bojangles, McDonald's, Popeyes, and KFC. Many have felt the impact of this shortage when they go to Bojangles and notice that they are out of the fan-favorite Chicken Supremes. The exact reason behind the shortage of chicken is mostly because of the lack of supply. A few major chicken-producing regions have been hit with natural disasters, like Texas and surrounding areas being hit by a big winter storm.
   It is said that restaurants are receiving about two-thirds of the amount of chicken that they used to. This is driving up prices for restaurants which directly impacts menu prices. Sophomore Zach Wolborsky said, "It made my family drive another few miles to a new place." He continued saying "It made me sad because we always have chicken during Alabama games on Saturdays." 
   The National Chicken Council did not determine it a "shortage," but there is undoubtedly more demand for chicken than there is supply.