Lights! Camera! Action!: Netflix throwback comedies: the cure for our AP testing stress
  With the start of May comes the start of AP testing, and so our stress starts pouring in. Every day comes with new stress from either not having enough time to study, or just getting nervous for that day. After a long hard day of test prep, sit back, and pull up your feet as you watch some of our favorite throwback comedies to knock that stress off of you. Some of Netflix's funniest comedies from our young age are The Smurfs and Madagascar 3: Europe's Most Wanted. 
  Everyone's favorite blue creatures are being brought back to you, and you will be too busy laughing to even think about your AP exams. The Smurfs, a hybrid animated and live-action film, focuses on a village of little blue creatures in one big family, called The Smurfs, where everyone always protects their family members from harms way. An evil wizard, Gargamel, is trying to capture the smurfs and has plagued the otherwise happy smurfs for quite a while. When Gargamel finally gets his chance to chase the smurfs through the village and magic portal, the smurfs  are transported to Manhattan and into the life of  regular, average person, Patrick Winslow. As the smurfs are put into the Big Apple, they will have to find their way back to their magic world and get far away from Gargamel, with the constant sarcastic comments of some of the smurfs. These little sarcastic comments are enough to make you laugh through the movie from beginning to end. So, as you are cramming for your AP tests that are almost here, consider watching this cute movie to help those feelings of stress leave your body, (at least for a little while.) 
 Madagascar is an animated movie trilogy about animals that were always getting in trouble and always making fun of each other. Well, one of the funniest, and most popular movies of the series based on ratings is Madagascar 3: Europe's Most Wanted. With this being the third movie of the series, a little backstory needed is knowing that the series follows a group of animal pals, Alex, Marty, Melman, and Gloria, who have escaped from the New York Central Park Zoo and have to find their way back without getting caught. In the third movie, the group of pals are still trying to find their way back to the zoo, but they find themselves in Europe after taking an unexpected detour. The gang is confronted by a French animal-control officer, Captain Chantel Dubois, when he manages to pick up their scent, so the group is forced to hide out in a traveling circus until it is safe to come out. As the animals continue down their crazy path to get back home, some of the animals' personalities are very "slow" and others are sarcastic, so when these characters interact, many funny arguments occur between them. This movie is another comedy-filled movie you can watch as AP testing is getting the best of you and you need an escape from constantly studying and preparing.
  Over the next couple of weeks, take the time for yourself, to stop and breathe after after spending time studying, and take a couple hours to watch one of these movies in order to help that stress not take you over. Take these steps to ensure the AP testing stress cure: open laptop or TV, search up Netflix, type in either The Smurfs or Madagascar 3: Europe's Most Wanted, sit back and relax, and press play.
About the Writer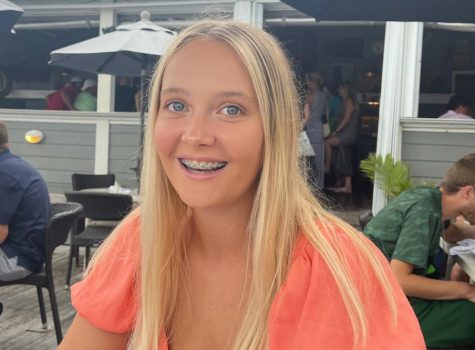 Lauren Jones, Section Editor
Hey there! My name is Lauren Jones. I am currently a junior, and this will be my second year on staff. I love watching TV, especially my favorite show...