Aven Moffat: A 6-year-old Boy who lost his life
 Aven was born premature at 36 weeks old and spent his first 87 days in the hospital. At six months old, Aven survived a 42-minute cardiac arrest and made a full recovery, baffling his family, friends, and even the medical community. He was described as a "miracle." August 13, 2021, at 6:26 am, a six-year-old boy named Aven Moffat passed away. His death was caused by a rare brain-eating amoeba. The location of where he contracted this amoeba is still unknown, but it is assumed by most that it was from the pond on their property.  
   The contraction of this deadly amoeba is extremely rare. In the last 50+ years, only 148 cases have been reported in the US. Only 4 patients out of the 148 cases have survived, making the fatality rate of this amoeba 97%. The scientific name for this amoeba is Naegleria fowleri, and it is contracted from still bodies of water. It can take anywhere from 2-15 days for symptoms to occur, but after symptoms come to the surface, death is likely to follow within 3-7 days.
   The Cat Talk spoke with Junior Grace Moffat, Aven Moffat's cousin, to get her feelings and experiences within the situation. She told us her "cousin's death was so sudden and tragic" and also explained that "it had a great impact on not only her family but anyone that Aven knew." While speaking with Grace, she shared her view on the event by saying, "Aven was just too good for this world, and I think God's plan was to always have him in heaven by his side watching over us."
   On the morning of August 21, the Moffat family and many people who knew Aven Moffat came together to mourn his death at E. Carroll Joyner Park in Wake Forest, North Carolina. The memorial service was led by Pastor Justin Morgan who described the day as "a way for people to show up to support them." The tragedy of Aven Moffat's death occurred with such short notice, causing grief for the Moffat family and their community. The Moffat family started a GoFundMe to raise awareness and fund deeper research into the cause of Aven Moffat's death.  Displaying how deeply his loss was felt, the GoFundMe page features a short piece written by a family member of Aven Moffat "Imagine… the sweetest little boy that lit up every room with his smile and laughter, silly jokes, tight hugs, beautiful white hair, imaginary friends, lego masterpieces, fishing stories, love of learning, and so much more." The GoFundMe has raised over $170,000 and can be found at https://www.gofundme.com/f/amazing-avens-quest-for-amoeba-awareness . Grace has also created refocus bands to raise money for amoeba awareness that will be available by the end of the week on Lily Mae's website. 
About the Writer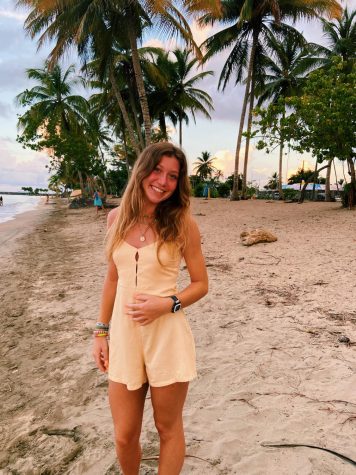 Berkeley Sumner, Section Editor
Hi, y'all! My name is Berkeley Sumner. I am thrilled to be on the newspaper staff for my second year, and for you to read some of my articles. I'm...