Afghan Refugees Hope to Escape the Taliban to RDU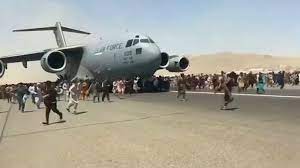 Afghanistan is facing its darkest times since 1996. The Taliban recently took control of Afghanistan just days before the anniversary of September 11th. Before the Taliban took over, women went to school and had jobs. Hijabs were a personal choice and women could express themselves. Now that the Taliban has taken over the country, women are forced to wear hijabs, and many are speaking out about how it should be a choice. With empty promises of women keeping their jobs, upset is setting in. Their extreme policies have Afghans fleeing the country.This unusual situation is causing worldwide panic, and many are doing all they can to help.
  World Relief Durham is trying to accommodate as many refugees as possible. They are doing everything they can for the families coming over. They are providing them with houses and teaching them about American culture, so they can have a smoother transition. Director Adma Clark says that they are excited to welcome everyone. He says they have seen disturbing pictures and videos of people grabbing onto planes, desperate to escape. Relief support is working fast due to the urgency of the situation. 
 US immigration laws give Afghans 25 cities to choose from, two of which are Raleigh and Durham.  Durham has been a safe haven for many immigrants for a long time. The Special Immigrant Visas (SIV) program has a substantial impact on how many immigrants can come over. Clark says they are feeling helpless as they wait for SIV to speed up the process. The current process takes approximately 13 months, so even with it being sped up, it could take a long time. 
  Afghans need all the help they can get. Cat Talk spoke with Olivia Dubay about what Millbrook can do to help, "It is not completely set up yet, but I am hoping that we can start a clothing drive at Millbrook to help. There's a lot of refugee sites in the Durham area, so I have been reaching out to World Relief and other organizations to see if it is at all possible. I think it is a great way to help out and get Millbrook involved in a good cause." Olivia is a great resource for students who want to help.