How to Show Kindness Towards Others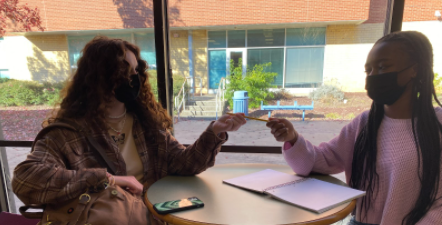 Kindness can be defined by Oxford Languages as "the quality of being friendly, generous, and considerate." Kindness should be received and given out by people, so joy and optimism can be spread around. Though there are various ways one can show kindness to others, research shows that there are only five main ways that are common. By following the five main ways, one can effectively spread kindness towards others. 
  First is focusing on others; an example of this would be devoting all attention to someone. By doing this, one is showing that one cares through love and understanding. Second way of showing kindness to others is by offering a helping hand; this shows one is being considerate towards others along with showing compassion through their actions. The third and fourth way of showing kindness towards others is by being there to listen and giving others gifts of appreciation. Sophomores Mariama Deen and Ashley Snyder say that they use the third and fourth ways  to show kindness in their everyday life. Mariama states, "I show kindness to others by having open arms and always being there to listen," while Ashley states, "By doing small gestures and complimenting people, I show kindness to my family and peers." By listening to peers and sending gifts to others, Mariama and Ashley are spreading their kindness by showing others that they care about them and that they want other people to feel happy. Lastly, the fifth way to spread kindness is to maintain a positive attitude. When maintaining a positive mental state and keeping a optimistic attitude, one can help spread the same energy towards  those around them. Even though these are the main ways to show kindness, not everyone is limited to following certain acts of kindness.
  Other acts of kindness would include complimenting people, having respectful mannerisms, or even being forgiving. This, along with various other reasons, would suffice in showing kindness towards others. In contrast to Mariama and Ashley, another student at Millbrook High School shows kindness without falling into the criteria of the five main ways. Junior Kendall Johnson states, "A way I show kindness is by forgiving people instead of condemning them." By doing this, Kendall shows kindness, compassion, and maturity through her actions. Forgiving and treating someone nicely rather than judging someone encourages positivity and kindness. 
  In general, kindness and optimism should be shared with all. By focusing on others, offering a helping hand, listening to others, giving others gifts, and maintaining a positive attitude, one can effectively show kindness towards others.