JROTC Mission 22 Fundraiser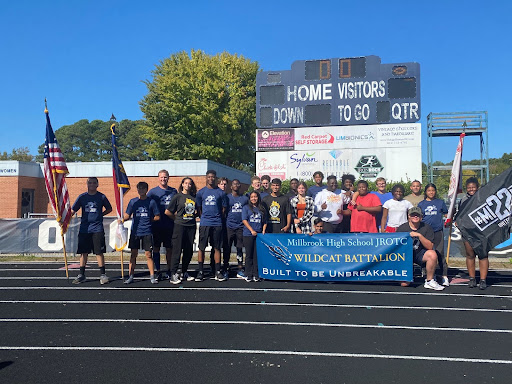 The JROTC just recently had a fundraiser where they ran for 22 hours to help support a foundation called Mission-22. The Junior Reserve Officer Training Corps (JROTC) is a military training program offered at Millbrook that is focused on shaping students into respectful and disciplined leaders while also providing a close-knit community. At 4 pm on Saturday, October 23rd, members of JROTC took off running around the Millbrook track, carrying a Mission 22 banner with them. 
  Mission 22 is a nonprofit organization that was founded in 2013 and dedicated to supporting active service members, Veterans, and their family members. Cadet Major Keller says, "Mission 22 is a program that helps veterans that are struggling mentally or just struggling in general to help them get back on their feet." The organization is called "Mission 22" because an average of 22 Veterans commit suicide every day. With Veteran's Day around the corner, JROTC students wanted to show their support and honor Veterans for their military service.
 The Mission 22 fundraiser was entirely student-led with weeks upon weeks of planning and preparation.  The school allowed them to use speakers, and they ran on the track around the football field. In total, they ran 425 laps around the track, which is about 125 miles. When running around the track, JROTC students would run in pairs so that people have a chance to take breaks. JROTC members would sleep in groups of five or so before being woken up to run. The JROTC Booster Club also provided snacks, music, and encouragement to keep everyone going. A lot of people were tired, so this was a method of making sure people are staying safe. 
  After 22 hours of running around the track, the event raised a total of $4,446, almost double the original goal of $2,000. Cadet Command Major Sergeant Santos reflected on the event: "It was a remarkable event, and we were able to push through the mental and physical fatigue." JROTC donated 22% of profits raised towards the organization, and the rest went towards funding the JROTC program.