Midterms at Millbrook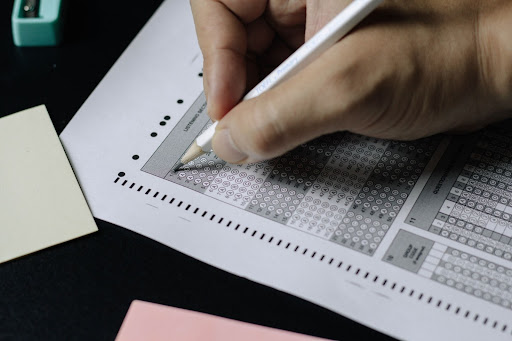 Millbrook's midterms began on Thursday, January 6th with 1A and 2A midterms and concluded on Tuesday, January 11th with 3B and 4B tests.  Each teacher's midterm may be in a different format as it is a teacher-made test. There were a wide variety of midterms administered, including, written or online exams, projects, and some classes may not have even had a midterm at all. The purpose of taking a midterm is to assess what students have learned during the first semester. Teachers use the results of the test to get an understanding of what topics students struggled with during the first semester and may tweak their teaching methods to better help students during the upcoming second semester. Majority of  midterms can only improve students' grades and are not counted against them. 
  Students chose different methods to prepare for long-form multiple-choice tests; senior Annette Clark says, "I studied two days a week in the library in order to have a quiet place to prepare for the test." Other test preparation strategies that were useful during the midterms were reviewing notes, listening to calming music, and getting a good night's sleep.
  Teachers may have chosen to give their students a long-form project rather than a multiple-choice test. Humanities teacher Mr. Segal says, "I recognise that midterms are a stressful time for students. So, I decided to give them an alternative performance-based assessment, where they could still show what they've learned without having to spend hours cramming for an exam." Other assignments to replace a midterm test may be subjective; senior Will Smith, who was assigned one of these projects, says, "Some classes a test would be easier and faster. But in other classes, if they are well thought out, projects can be a great replacement to a multiple-choice test." 
  Students are feeling good about the midterms; junior Kat Wallace says, "I am relieved that midterms are completed and ready for the next semester." Students destress and unwind after spending time studying and preparing for the midterm exams. Wallace says, "Reading and watching television is a way that I unwind after taking a hard exam." Students look forward to continuing to work hard during the second semester and prepare for end-of-year exams.