Brook Cook: Little Snacks for Loved Ones on Valentine's Day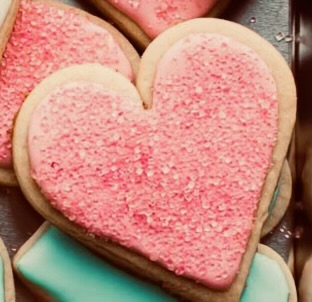 It is the season of love with Valentine's Day right around the corner. Time to show friends and family how much they are appreciated and loved. Valentine's Day is a day of love or romance, and way back in the 1800s, people began to associate chocolate or little treats with love. Richard Cadbury, a candy-maker, thought that it would be nice to package chocolates in heart-shaped boxes and the tradition grew from there. During Valentine's, freshman Shelby Greene makes sugar cookies that are heart-shaped to show her love towards others. She says, "This is one of my favorite treats to give to my friends and family. I love the cute shapes and they are very delicious, but they also show a lot of love towards whoever receives them."  Here is the recipe to try! 
Ingredients 
2 ¼ cups all-purpose flour, plus more for rolling and work surface 

½ teaspoon baking powder 

¼ teaspoon salt 

¾ cups unsalted butter, softened 

¾ cups granulated sugar 

1 large egg, at room temperature 

2 teaspoons pure vanilla extract 

¼ or ½ teaspoon almond extract  (optional) 

Decorate with any icing (pink and red for valentines season) and can also use heart-shaped cookie cutters 
Steps
Whisk the flour, baking powder, and salt together in a medium bowl 

In a large bowl, use a hand mixer or stand mixer to beat the butter and sugar together on high speed until smooth and creamy (about 2 minutes) 

Add the egg, vanilla, and almond extract (if using) and beat on high speed until combined (about 1 minute) 

Add dry ingredients to wet ingredients and mix on low until combined (Dough will be soft, and if too soft, add a teaspoon of flour) 

Roll out dough, break into 2 parts if you have a lot of dough, then lightly dust with flour and store in the refrigerator for 1-2 hours 

Once chilled, preheat oven to 350

°

F, line baking sheets with parchment paper

Roll out dough, and use the cookie cutter to cut out a shape, then place cut-out dough on a baking sheet (about 3 inches apart)

Bake for 11-12 minutes or until lightly brown, then allow cookies to cool 

When cookies are done and cool, it is time to decorate! 
  Another popular treat to give to friends is a Valentine's snack mix. This recipe is not as sweet as the first one and would be perfect for someone who does not have a big sweet tooth. It is great for gatherings and just maybe chilling out. Here are some things to add to make the snack mix amazing! 
Ingredients 
Marshmallows

Pink goldfish

Pink and red M&Ms

Chex mix 

Cheerios 
Just mix these all together to make an amazing snack mix. Other things could be added like pretzels, cheez-its, or anything snack-related can make this recipe the best. These recipes are great for loved ones, and they will feel very appreciated.