Kanye West taking it too far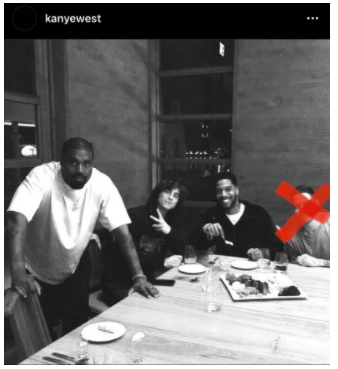 Everyone handles divorce in different ways, but Kanye West is taking it to a whole new level. He has recently been spotted with multiple Kim K look-alikes. Julia Fox and Chaney Jones have casually dated Kanye, and it is starting to get weird. 
   Julia Fox and Kanye had an open relationship but have stated they were serious about their love. Kanye did her wild eyeshadow himself, and she has been seen wearing similar looks to Kim. Julia defends herself on the podcast, Call Her Daddy, by saying Kanye probably influenced Kim's old looks: "If anything I think the conversation should be how heavily Kim was influenced by Kanye."  Kanye and Jones have been seen in outfits resembling his and Kim's met gala looks. Chaney Jones has been known for impersonating and being obsessed with Kim for a long time now. Their resemblance is alarming, to say the least. 
  His aggressive and obsessive behavior towards Kim is concerning. He recently tweeted, "SINCE THIS IS MY FIRST DIVORCE I NEED TO KNOW WHAT I SHOULD DO ABOUT MY DAUGHTER BEING PUT ON TIK TOK AGAINST MY WILL?" West is clearly looking to publicly attack Kim, when he easily could have talked with her privately about it. She handled the situation with grace, pointing out that she is the main caregiver for the kids, and she wants to give them the most normal life possible. The comments on North's Tik Tok are disabled, so Kim is obviously a responsible parent. Kanye is yet again trying to start problems and have an effect on Kim's life. "He's definitely a character, but I think it's all for publicity," sophomore Ben Reynolds says. 
  Pete Davidson has also been constantly attacked by Kanye on social media. Kanye has posted many things on Twitter and Instagram slandering Pete and Kim, including drawing over Pete's face. "LOOK AT THIS D***HEAD I WONDER IF INSTAGRAM GONNA SHUT DOWN MY PAGE FOR DISSING HILARY CLINTON'S EX-BOYFRIEND." This along with many other posts and tweets have been deleted, most likely by Kanye's PR team. He was tweeting movie posters with his and Pete's faces edited on, such as Civil War and Venom. " I think the meme he made with the avengers is so funny, he's literally a genius. I feel like he knows what he is doing, this is on purpose," junior Hannah Fredrick says. Numerous people are worried about Kanye's mental health, due to his history and these recent outbursts.